Short Biography


(This text can be used anywhere)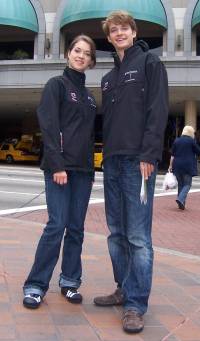 The figure skating career of Anna Carolina Hermann (born January 3, 1988 in Wuppertal) and Daniel Felix Hermann (born October 12, 1986 in Wuppertal) was destined for them when the siblings first skated on a frozen lake near their home in 1991. Three years later, they started taking figure skating lessons.
It was not until 1997, though, that Carolina and Daniel discovered ice dancing for themselves. They soon took part in local, national and international competitions. In 2003, Carolina and Daniel reached the junior level and competed in the Junior Grand Prix series. Even though they were still teenagers, the two of them moved out of their home in the same year to live in Dortmund, the city in which they had trained since they began ice dancing and where they are still training nowadays with coaches Vitali Schulz and Rostislav Sinicyn. In 2007, they became the German Junior Champions and could therefore compete in the World Junior Championships in which they reached a fantastic 10th place.
Carolina and Daniel started to skate at the senior level in the 2007-2008 season, participated in the Grand Prix series and had a successful season overall. Carolina and Daniel spent the summer in Canada and trained with Victor Kraatz and his wife there. In the following season, 2008-2009, they won the German Championships 2009 and thus qualified for the European Championships for the very first time. They finished 12th. The good placement assured them the participation in the World Championships, where they came in 17th.
When they are not skating, Carolina and Daniel mostly keep themselves busy with their studies (Carolina is a psychology student, Daniel is doing business studies).