Journal
September 2010
At the beginning of August, we moved to Berlin for a test practice, and this is the point from which we'd like to start this entry. It wasn't the first time that we've been to Berlin, but we've actually never wanted to live here. We've known the city since our first German Novice Championships in 2000 and have never been able to establish a real relationship with it. Its charm and the atmosphere that so many people rave about have probably never really reached us. We can't even state a reason why this is so. It wasn't until we visited the city more often due to the relationships with our girlfriend and boyfriend that we slowly began to warm to the city. In addition, the stay in Berlin during Katarina Witt's farewell tour in 2008 was a special experience for us. We stayed in Berlin for three days and always went back to the hotel after the shows when it was already dark outside. Berlin is truly beautiful at night. Add to this that the tour's premiere took place here and that we could stay in a very good hotel, too.
When we reached the residence hall, the manager welcomed us right at the parking lot with the sentence, "Remember to always lock your car, you're now in Berlin and I don't know which village you're from." A bit irritated, but thankful, we took his advice and unloaded our car. Ever since the power window busted, it's easy to press the window down and empty the car. A good week later, we realized that the manager had a point in uttering that statement: our car did not get emptied, but some unknown persons had fun adorning the cars in front of the residence hall with deep scratches on the hoods.
For the first two weeks, the two of us got a room together. Later we could move into our current single rooms.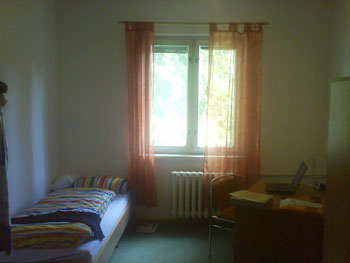 Under rather spartan, but low priced living conditions, we now each live on 13m² with group showers in the corridor and a shared kitchen. There's hardly any luxury, but a possibility to fully focus on your training and to get to know other athletes. The residence hall manager told us that the building should have long been cleared and renovated; however, new athletes who need housing arrive all the time. Therefore not much has changed here since the fall of the Berlin Wall.
It was nice to have company from Dortmund this first month because Mari Vartmann and her new partner Aaron Van Cleave, as well as Katharina Gierok stayed here, too. It's always fun with these three around and, furthermore, we somehow felt a bit more at home.
We instantly started the on-ice training on the first day in order to get used to Berlin. Although there were problems with the ice times time and again because not all rinks were open due to technical problems and ice hockey, short track and figure skating thus had to compete for the few ice times, we noticed some slow progress. The training of the basics began and we also did lots of additional athletic training and ballet. Our motivation was up, and the days always went by way too fast because we would have liked to practice even longer. Unfortunately, Caro came down with an infection that made it impossible to train for several days, and later her knee problems returned, which caused her to pause here and there again and again. However, this is normal at the beginning of the season since the body first has get used to the strain, which is why we didn't worry too much yet. On the contrary, we were even motivated enough to quickly create our SD (Short Dance) now after all and were eagerly looking for a suitable music (the music that we had previously wanted to choose is already used by another team).
Right when we had found the music, a choreographer happened to be in Dortmund, and since we had to go to Dortmund for some talks anyway, we wanted to use the opportunity to create the SD there, so that we could quickly get back into the season. Spontaneously, we went to Dortmund to start rehearsing, but when we wanted to take the ice on Monday, Carolina had to abort the training session because the pain in her knee became too strong. As quickly as possible, she went to one of our federation's team doctors, Sven, to have her knee x-rayed. When we received the findings, we were shocked: constant overstress led to an acute irritation of the knee. In addition to this irritation, Carolina's kneecap doesn't rest in place properly and her cartilage is also very worn out. We're now trying to rebuild the cartilage with a special regimen and to minimize the improper biomechanical stress with additional, intensive rehab therapy. We can't tell yet how long this will take exactly, but the first regimen will last for about 5 weeks in which she won't be allowed onto the ice. If this doesn't help, we'll have to consider surgery. We're however hoping to evade this.
In all this haste, we had unfortunately completely forgotten to give notice of our departure to the NADA (National Anti-Doping Agency), and when Carolina got a call from a blocked number, a friendly doping control officer (DCO) answered. It's normally our duty to report in advance where we're going to be at what time in order for surprise doping controls to be conducted. For us, however, it's very difficult to always give particulars. It's not uncommon that we go to NRW and in the evening we still don't know yet where we'll be sleeping at night. The DCO gave Carolina a two-hour window to get to the control in Berlin. Even with a plane this would have been impossible to accomplish, so we offered to be there for the drug test in 4 hours (the trip from Dortmund to Berlin takes approx. 3.5 hours by train) or to do the test immediately somewhere in NRW (hospital, doctor, some other official DCO). None of this would be accepted by the NADA, which is why Carolina now has a "Missed Test." This means that she has to pay a fee of 90 Euros and that she'd be ineligible for three months if she had another "Missed Test." There's every reason to implement a reliable anti-doping system, but it often interferes greatly with the athletes' privacy. DCOs can be standing on your doormat and ask for a sample on any day of the week from 6 a.m. to 10 p.m. Be it a Sunday you spend with your relatives over coffee and cake, be it in the barracks when you're on duty. We in particular have a tendency for spontaneous decisions and can therefore not always tell exactly at which hour we'll be leaving or how long we'll be practicing. You have to be available at all times, even when e.g. your mobile phone battery is dead.
We then returned to Berlin that evening. A few days later, Mr. Skotnicky came over to Berlin for a couple of days, but Carolina wasn't able to practice then, either. Nevertheless it's fun to be back in training and to know that things are making progress slowly but surely...
Best wishes,
Carolina and Daniel

P.S. Supposedly, the Chinese symbols for crisis and for chance are the same.
We'd like to thank you for the many kind and motivating e-mails. We were really happy to see how many people were worried about us and would even have been willing to help us.