Journal
October 2009
We apologize for not always having the journal entry completed by the beginning of the month of late. Usually, we always write the entry towards the end of the previous month. In the last three months, though, we were away right at that time, just like this month when we spontaneously went to Munich after the Nebelhorn Trophy in order to revise a few things there. But first things first.
Our training mates and friends Dominique and Michael had qualified for participating in Junior Grand Prix events with their results from last season, so in early September, they went to Budapest and Torun with our coach Vitali. Even though it's rather enjoyable to practice without a coach every once in a while, we were looking for an alternative and thought about how to use the time wisely. The national coach didn't have time, and Vancouver is a bit far away for only a week, which is why our coach decided to send us to a colleague of his, Muriel Boucher-Zazoui, to Lyon. He had already considered sending us there this summer to benefit from the atmosphere of major teams.
After an 800 km car drive, we arrived in the French industrial city of Lyon on Sunday evening of the last August weekend, and we began training on Monday morning. The rink is very modern, warm, and primarily designed for the purpose of training. The coaching team is made up of Muriel, Romain Haguenauer, and Diana Ribas, who have been working together for many years. Diana, who may be rather unfamiliar to some, is a dancer and has never skated herself. She has her own dance studio and works a lot on choreography and expression with the skaters. Training starts on the ice at 6 a.m. every morning and ends at 2 p.m. or 4 p.m., respectively. The coaches can thus organize when to work with which team, so that nobody misses out. After all, 5 senior and 3 junior teams practice there permanently. The best-known team is Isabelle Delobel and Olivier Schoenfelder. However, she was expecting her first child during our visit and didn't practice for this reason. Olivier, on the other hand, was at the rink almost every day to skate the finished programs for the current season. The other skaters told us that Isabelle was still on the ice with her big baby belly and that she trained and rehearsed diligently. It was merely for the lifts that Olivier had to make do with other ladies because this would have been a bit too dangerous after all. Everyone here, coaches as well as the other skaters, wouldn't put it past Isabelle to work again shortly after childbirth and to let the baby pounds roll off quickly.
Another very successful young team that trains here is Italians Anna Cappellini and Luca Lanotte. After the past World Championships, they parted with their old coach in order to permanently train in Lyon. Moreover, you can find the French skaters Pernelle Carron and Matthieu Jost among the training mates, who have split and who are now skating with Lloyd Jones and Olga Orlova, respectively.
Since we hadn't really known anyone well enough in Lyon previously, we had booked a hotel room at first. Carolina still remembered well how small French hotel rooms are in general, and that they often only have those French double beds that we dread. That's why we demanded right upon reservation that we'd get two separate beds. At the German Championships in Dresden two years ago, Tim and Daniel received a French double bed by accident and had to take two single rooms thereupon because it was just too narrow for two people. In addition, we're reluctant to share a room to begin with because it's good to gain some distance after practice and not to be together for 24 hours. As expected, the hotel room was 16 square meters and had two separate beds, which were, however, pushed together to a large bed. We quickly rearranged the entire room and moved beds, table and chairs in order to sleep as far away from each other as possible. The training went well and it was indeed motivating to train in a large group, which is why we had already decided after just a few days that we'd stay for another week. By then we had known the skaters quite well, so we gladly accepted the Italians' offer to stay in their apartments.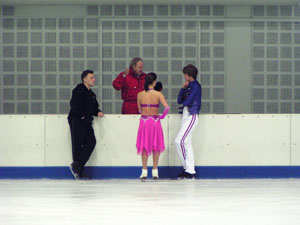 Roughly 2 weeks after our return to Dortmund, we were supposed to start into the competitive season at the Nebelhorn Trophy. Because of this, national coach Martin Skotnicky came to us to Dortmund for another few days to work on the programs. The Tango in particular still had many little problematic parts, and in the Free Dance we also had to revise some steps here and there to get higher levels before we went to the Nebelhorn Trophy.
The Nebelhorn Trophy was the Olympic qualifying event of the ISU this year, which means that those nations which did not succeed in skating to an Olympic ticket for their country at the past World Championships would now get a second chance. Fortunately, we had already managed to secure an Olympic spot for the German Skating Union in Los Angeles and could therefore enter the competition more relaxed. The nations which had not done that yet were only allowed to enter one competitor per discipline, so that a ranking could be prepared that's independent of the other competitors. In ice dancing, the first 5 nations without a spot qualified directly for an Olympic ticket, and the other nations were waitlisted. That is, if one nation, e.g. Germany at the past Olympic Games in Torino, doesn't want to send a participant despite having an Olympic ticket, the waitlist comes into effect. This year, the Australians, Austrians, Chinese, Czechs, Estonians, Finns, Georgians, Greeks and Hungarians wanted to qualify. Hungarian Nora Hoffman with her partner Maxim Zavozin would have certainly secured a ticket at Worlds, but they weren't able to compete there due to injury. The Austrian and Georgian teams have been put together just recently, so they couldn't secure a ticket at Worlds. The Australians were really unlucky: first it didn't suffice at Worlds, and now they had to withdraw before the competition even started because he had contracted pericarditis after a cold and a missing break from practice.
For us, the competition could have meant a step towards the Olympics, too. To meet the qualifying requirements, we have to reach 145 points in competition twice. We had known in advance that the competition would be filled with very strong skaters, so we were hoping to reach that score with a good performance. Right at the beginning of the competition, we were somewhat unlucky and drew a very early number for the Tango. Actually, that isn't all that bad, but we had a very weak showing in practice and would have needed to surprise the judges with an outstanding performance to receive good components. Right at the beginning of the Tango, we lost two beats of the music and therefore added an extra step, so that we could start at the next measure without having to skate the entire dance shifted by two beats. This of course had the disadvantage that we didn't begin the dance with the music, but only on a beat that worked. We were actually still quite pleased with our 10th place since we have to admit that the other teams showed really good Tangos. At first we were glad that we (as we thought) would still be in the top 10 group for the Original Dance draw that way. However, this was not the case since, with a total of 16 teams, only the top 8 placements made the cut for the open, later group. Therefore, we were in the first drawing for the Original Dance as well.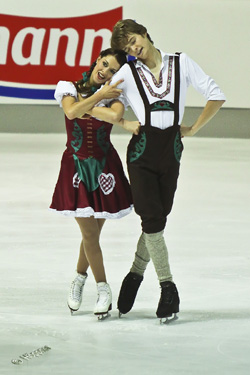 The theme of the Original Dance this year is folklore, and everyone was advised at meetings that you should choose your own country with regard to the Olympics. Of course it's difficult to define folklore for some countries (what about country music, for instance?), the music isn't always suitable for the ice, and some countries have more options than others. Even though Germany offers many other music styles, too, we deliberately opted for the Bavarian theme since Germany gets associated more with Bavaria internationally than with North Sea songs or Black Forest melodies. Furthermore, this style offers many rousing and funny music pieces. The first part of our program is the "Kufsteiner Lied," which is about the Tyrolean city of Kufstein, so to be correct, we actually skate an original dance to Alpine folk music. We're happy that we've received a lot of positive feedback for our OD at the Nebelhorn Trophy and that we performed it well in competition.
In the Free Dance, on the other hand, we didn't manage to deliver a performance that would correspond with our level at this point of the season. The very first lift already caused problems with the position, so it was downgraded from level 4 to level 2. Unfortunately this mistake wasn't the only one. Rather, we fared a bit like the skaters who fall on their first jump and where a thread of mistakes runs through the program from there. We only managed to show one single element cleanly. After this unsatisfying performance, we probably reproached ourselves more than anyone else, and rightly so. What followed were talks with the coach, national coach, federation and others in which we tried to design the best training program now to get prepared for the Grand Prix in Moscow.
First of all we were supposed to return to Dortmund, and then we planned to resume work with the national coach on Thursday. However, he wanted to work together with a choreographer whom we knew from a seminar, and since she couldn't leave her hometown on short notice, we headed back south to Munich on Wednesday night. A weekend of intensive training was in store for us with up to 8 hours of practice every day. Consequently, there was unfortunately no opportunity for us to take a look at the Bavarian capital or to go visit the Oktoberfest. Even though the German Skating Union has its office there and the rink is one of the federal bases, we had never been on site before.
Luckily we hadn't decided on taking the car, because that Sunday was the last day of the Oktoberfest and traffic jams around Munich were bound to take place. In addition, we had already driven enough kilometers lately, and going by train is often more relaxing. So far it hadn't been possible to travel other distances by train considering the travel dates and destinations. Adding everything up, we've been en route in our car for over 5,000 km since we've returned from Canada. Being two people, this was not all that bad all the time because one of us could always drive while the other one rested. We also enjoyed listening to audio dramas in the car to kill time. Actually, we've even been lucky all the time and managed to avoid big traffic jams or other waiting time, with the exception of the drive back to Dortmund after the Nebelhorn Trophy. We had already accepted a small detour on our way there because our coach was driving for a short distance and he got so distracted with the audio book "La Maison Tellier" that he missed an exit by about 70 km. The return wasn't shorter timewise, either, since it took us 9.5 hours to drive a distance of round about 800 km because there were 30 km of creeping traffic and another 20 km of road works.
The next competition on our schedule is Moscow, and we're already thrilled to see the city. Never having been to Russia as a skater is almost a bit odd.....
Best wishes,
Caro and Daniel