Journal
October 2008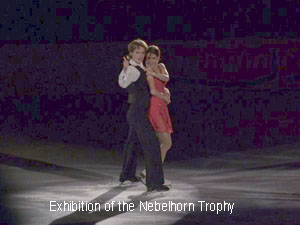 We've been back in Germany for over a month now, and we've settled in well again. The return flight went very well, and we were both very happy when our father picked us up in Amsterdam with our sister Lea. It's nice to be back in Germany and to see our friends and family again. Now that we can look back at our stay abroad from a distance, we again notice many positive things here as well. One example is the medical attention that we have in Dortmund once a week. In general you go there if there's something acute, and you don't have to wait for days to get an appointment. Something like this didn't exist for us in Vancouver, for example.
Shortly after our return, we flew to Prague to meet our seamstress there. Luckily we didn't have to change much about the costumes, so we were confident that the costumes would be ready for the Nebelhorn Trophy. We've had our costumes made in Prague for a couple of years now because we're very pleased with our seamstress there. If you book early enough, you only pay approx. 30 euros for the flight, and the return by night train is 29 euros. Then we're in Prague for approx. 7 hours on one day, out of which we spend two to three hours at the seamstress's. The remaining time we mostly have a look at Prague, even though we've been here a lot by now.
On September 10, we went to Oberstdorf in order to prepare intensely for the Nebelhorn Trophy there. Both of us were also afraid to skate at such a height so early in the season, so we wanted to get used to the height a little. In addition, we wanted to work with Mr. Sinicyn because we hadn't seen him since our departure in April. In Oberstdorf itself, the training went very well, but apart from training you just can't do much in Oberstdorf. Therefore Daniel could prepare for his first exams in October, but still we didn't quite know what to do all day long. This close to the competition, it just doesn't make any sense anymore to suddenly start with more training sessions, such as jogging, strength or other.
The Nebelhorn Trophy was, just like last year, a very well-organized competition. In our opinion the field of competitors this year was even a bit stronger than last year, albeit we don't want to justify our 7th place by saying this. Our problem at the competition was the Compulsory Dance. The early starting number and some difficulties with timing, particularly in the second and third round of the waltz, explain those quite low 26 points. In the Original Dance, we were even a bit lucky that all the elements worked so well and we had thus skated to a good placement. Unfortunately, this wasn't the case in the Free Dance. Daniel didn't manage to catch his foot in the first rotation of the twizzle, and during the second lift we didn't stay in a difficult position long enough. Add to this mistakes in another lift and a rather weak skate altogether. Nevertheless we think that the Free Dance was received well, and we stood out of the otherwise rather dramatic music choices. We're not satisfied with our seventh place, but we also know that the teams ahead of us aren't bad teams.
From Oberstdorf we went back to Dortmund where Carolina took the oath for the Federal Armed Forces on October 1, 2008. Daniel's classes started in October, too. Therefore it wasn't that easy to already leave university again and set off to Helsinki. Helsinki wasn't on our list originally, but since we had agreed as the only German team to skate in competitions this early, we took the opportunity to start here as well. Because of this, we'll cancel our start in Vienna, though, because it would become just too many early competitions otherwise.
At the moment the two of us are sitting on the train to Düsseldorf and will fly to Helsinki in approx. 2 hours. It's our second time in Finland (two years ago we were once in a training camp near Kuopio for three weeks). Most of the time, we're looking forward to traveling to a new place, even though you usually don't see much of the surroundings. Unfortunately we'll have to return right on Sunday this time as well since Daniel has to be back at university on Monday.
Carolina & Daniel