Journal


November 2008-11-01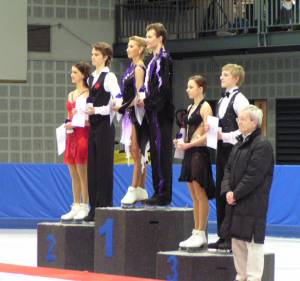 Today is November 1 and in approx. 3 hours we will skate our Original Dance at the NRW Trophy. The Compulsory Dance, the Viennese Waltz, was okay, even if Daniel was a bit too fast and offbeat at the beginning of the second round. Nevertheless we're glad that so far we've improved our performance in the compulsories from competition to competition. From 26 points in Oberstdorf to 27 points in Helsinki, we were able to reach 29 points yesterday, which is very good for us.
At our last journal entry, we were right at the airport in Düsseldorf and were flying to Helsinki with Mr. Denzer as a judge. The competition in Helsinki was very well-organized, and there were many spectators present for the Free Dance. We even went out of the arena for the warm-up in order to have a little more privacy before the skate (the warm-up area was about 9 m2) and not to be distracted too much. We're positive that the European Championships here in January will be a similarly great event as the World Championships in Gothenburg last year.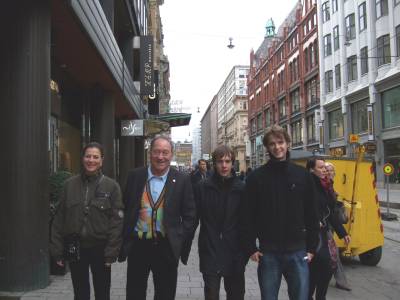 For us, this competition was an unfamiliar situation that we hadn't had for a long time. In the last couple of years, we always went to a competition with Mr. Sinicyn or Mr. Schulz (or both), but since neither of them was available this time, Mr. Skotnicky accompanied us for support. For this reason he even went to Dortmund a few days before the departure to work with us in advance. We were particularly looking forward to the competition because we would meet training mates from Vancouver (an ice dance team which didn't compete, though) and Kristian Rand, whom we hadn't seen for 2 years, either. We've known both Kristian and the Polish pair since our last novice year, and they're good friends of ours.
On the first day in Helsinki, we took the time to take the bus downtown (because the "low-priced" one-way ticket was 3.80 euros only). Mr. Skotnicki briefly introduced us to his former student Petri Kokko, whom we met in the city more or less coincidentally. The city was very nice, even though we were a little surprised at the prices. Although there was some kind of winter sales at the time, the prices didn't encourage shopping. Therefore we also had to search for approx. 1.5 hours until we found a restaurant which pleased our price expectations.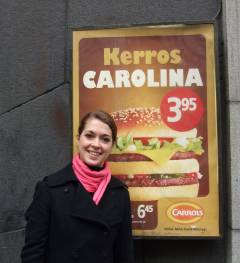 Needless to say that this was a fast food restaurant. The crucial factor for us was the "Carolina Burger" which they offered. Under no circumstances did Peter Liebers want to miss out on trying that one. Disillusioned, he had to discover that Carolina tasted a little flavorless and takes getting used to.
The Compulsory Dance went very well for us, and we were very happy when we reached the 4th place. In the Original Dance, we both skated a bit shakily at the beginning, but we were able to execute all the elements well, so that we did not drop behind the strong Estonians. The Free Dance, which we skated on Daniel's birthday, went very well and was probably one of the best Free Dances we performed so far this season. At the end of the Free Dance, a few spectators even sang Happy Birthday while we were waiting for the scores. We were in 5th place for the Program Component Score, but our serpentine lift was judged an "illegal element," so we not only lost 6.4 points for the lift, but also received a 2-point deduction. In the beginning, both of us were very disappointed, and maybe we showed this a little too obviously. Only after we watched the video of the program on YouTube did we understand the criticism (Carolina slightly tilted forward during the ascent, which for a moment resulted in a prohibited upside-down position).
On the weekend after our return to Dortmund, we went to Berlin with Vitali to learn the Finnish Quickstep with the other teams there. Both Christina Beier and Tim Giesen and Tanja Kolbe and Sascha Rabe] already knew the dance quite well, so the others often had to wait for us since we still had to learn the steps. The Quickstep is a very funny dance which is incredibly quick and has brutally many steps. Let's see what we can make out of this until the German Championships. At the moment we don't even know yet if we'll ever skate this one.
The week after Berlin, we had actually wanted to go to Oberstdorf to work with Mr. Sinicyn. Unfortunately we had to call this off because Daniel still had to write an exam at university. Since his regular exam period often coincides with competitions, he has to take make-up tests during the semester. Therefore it'll again be stressful in early December since the exam period is shortly before Nationals. Carolina's studies go according to plan, and she will have to write some exams in March, too.
Carolina and Daniel