Journal
March 2009
Once again, an exciting month is over. We're currently going from one competition to the next and there is hardly any time to process what we experience. We just returned from China 2 days ago (at the point of writing this), but we're already totally looking forward to the World Championships in Los Angeles. The Universiade was an incredibly exciting experience, and it was so much fun for us to take part. After we were once allowed to experience the Olympic Games in Torino in the Youth Camp, this was another experience that motivates us to possibly make it to the Olympic Games one day. Until then it's still a long way, and many obstacles have to be overcome....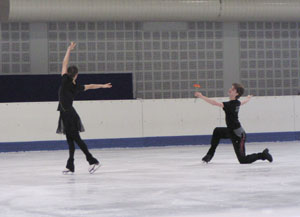 Dortmund
After our return from Helsinki, we first took one or two days off. We were both a little tired from the European Championships and therefore called off some shows that we had been invited to before China. Daniel started his internship and Carolina also had to start studying more again. Mr. Skotnicky came to Dortmund for a few days and worked with us on the Paso Doble because we've only had to skate this dance a few times in competitions so far. Moreover, we were a bit insecure because we were criticized for our Paso Doble costume after the German Championships. For financial reasons we had decided against having a Paso Doble costume made for us. The constant problem with Compulsory Dance costumes is that you don't know how often and in which competitions you'll need them. For this reason, we had simply borrowed an old Zorro costume from Florian Just for Daniel, and we bought Carolina's dress at a bargain price from Allie Hann-McCurdy when we were in Canada. Now we were confronted with the problem that we needed a "reasonable" and appropriate costume for the Universiade and possibly also for Worlds. We had the idea of asking Tim Giesen about his little bolero jacket which he got from René Lohse. We would collect the pants and shirt from other costumes and have Carolina's dress modified. Tim immediately agreed, and so we had his jacket in Dortmund two days later and could make a few small modifications (Daniel is significantly thinner after all). We had Carolina's dress changed and thus an almost new Paso Doble costume.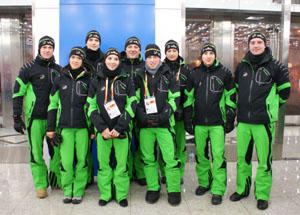 Our outfits for the Universiade were sent to us at the beginning of February. At first, we were a little surprised at all the green. However, we were later approached about our nice jackets by many nations, and since we were the only nation with green clothing, we could recognize each other even from a distance. The adh (German University Sports Federation) explained to us that these are the trend colors for next season. Clothing manufacturers generally plan two years in advance. Our jackets were already designed a year ago and will be going into regular production next year.
Before we took off on Sunday, Daniel wrote another exam on Friday. He is hence 6 examinations behind (regular) schedule at the moment and will not be able to make up for this till May, either. Fortunately, his college is very flexible with examination dates and tries to attune completely to his sporting appointments. After practice on Saturday we both met some friends, something which we haven't had time for since Euros and which is always important for us as a balance to the sport. You get a bit distracted and don't always think about skating, you get your mind on to other things. Moreover, a friend from Canada who has now begun to study in Germany visited us.
Universiade On Sunday morning, we had another short practice and went through the OD. We didn't know when we could be on the ice again, and our flight was only booked for around 3 p.m. Air Berlin was supposed to take us to Berlin where we would meet all the other athletes, and from there we were to fly to Beijing. A 5-hour stay was planned there before we'd finally arrive in Harbin.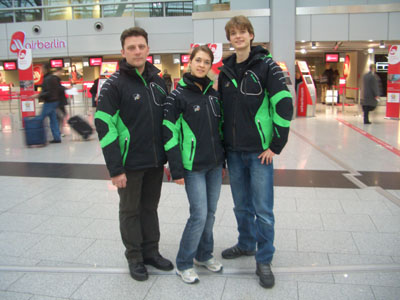 However, a first surprise awaited us in Düsseldorf. Due to a booking error, we didn't have tickets to fly to Berlin. In addition, we didn't know whether our flight from Berlin to Beijing had been booked properly. The plane to Beijing, however, was scheduled for every three days only, so we had to be in Berlin on time, which was in roughly 4 hours, at all costs. The adh, which had booked our tickets, didn't have anyone in their office on Sunday. Consequently, we called the emergency number in China. We bought new tickets last-minute and went to Berlin, hoping that we could go on from there.
In Berlin, we could fortunately get on the plane without any problem, but we were all seated pretty scattered because we couldn't pick up our boarding passes until very late. At our arrival in Beijing we were surprised at the significance of the Universiade in China itself. We were immediately picked up from the plane and also received preferential treatment when our visas were checked. A special counter was opened only for the participants of the Universiade, so we could pass quickly. Outside of the security area, we were instantly intercepted by some photographers and a cameraman who filmed us during the following checks. In Beijing and on the connecting flight to Harbin we then met the first other nations. Altogether, there were approx. 3,500 officials who came to the World University Games, which is the second largest winter sports event after the Olympic Winter Games.
In Harbin, we were warmly welcomed in German by our attaché whose task it was to accompany the German team and to translate if required. He was our contact person for all problems or other issues. Each team thus had someone who could quickly help if needed. Outside the airport, we were then surprised by the freezing temperatures for the first time. Now we knew why we had taken our winter coats and boots along. On the following days, we could hardly walk around a day without thermo pants and caps or we would have frozen completely. On the bus, the panes were almost always frozen from the inside as soon as there were enough people who increased the air humidity. When you went outside in the morning with slightly wet hair and couldn't put on a cap because the hairdo for the program would have been destroyed by it, your hair was frozen. On the evening when we went to the Ice Sculpture Festival, it was so cold that your hand hurt when you took off your gloves for more than 20 seconds in order to take a picture. According to the weather report, it was always around minus 20° C, but sometimes this even felt considerably colder. It didn't even snow that much, there was only a slight snow layer everywhere. We've never seen a snow plow here or someone salting. The explanation for not using salt may be that salt is only effective for temperatures not lower than minus 7 degrees, at least to our knowledge. Instead of snow plows, there were groups of people who swept the snow off the streets with brooms. Even on the freeway they cleared the driving surface with brooms and pickaxes. We were really astonished that we didn't see a single accident here.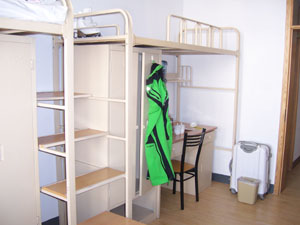 We slept in loft beds in a dorm of Heilongjiang University where we Germans who were in Harbin had a part of the corridor to ourselves. Next to us in this corridor were the Slovaks and the participants from Taiwan. The rooms were rather basic, but absolutely sufficient. Carolina stayed with Constanze Paulinus and Daniel with Martin Liebers in a 4-bed room respectively. The service of the maids was noteworthy: they cleaned a room with 4 maids at a time, so that it would be completely mopped and cleaned up within 3 minutes. What was funny was that every participant was provided with 10 condoms in the bathroom. We knew from newspaper articles about the Olympic Games in Beijing that approx. 140,000 condoms were distributed there for 10,000 athletes because there had been a sudden lack of condoms in both Sydney and Athens. In addition, there were more free condoms in the corridor. So many condoms seem to have encouraged a playful mood with the Slovaks, so one night their part of the corridor was completely decorated with inflated condoms. The volunteers later explained to Daniel that condoms are almost always free in China in order to being able to continue decreasing the birth rate.
The university in which we lived was completely cordoned off for us and could only be entered after security checks with metal detectors. Within the Village itself, there were again two zones which could only be reached with certain accreditations and that separated the apartment buildings of the athletes and the dining halls from the remaining part. Soldiers were detailed especially for the checks who examined the accreditation very friendly, but also very closely. Furthermore, soldiers were positioned at intervals of 20 meters all around the Village day and night, so that nobody could get in unnoticed. It's incomprehensible to us how those could endure the cold. In addition, there were volunteers all over the Village who always greeted us and who were very nice. On each way from the room to the dining hall you were greeted by approx. 8 persons who even stood up for this. In the main part of the Village, there was a supermarket, a post office, an Internet café, a souvenir shop and a cultural center especially for us. There was a dance performance every night where you could watch traditional Chinese dances, but unfortunately we didn't manage to see this. We were also provided a large swimming pool, a gym, a bar and recreational games, such as pool. Therefore we weren't bored for even a single minute in all those 9 days that we spent there.
On the first evening, Carolina went for a little walk and left the Village while doing so. After a few minutes, she noticed that she was followed by a car and therefore chose to walk on the other side of the road. Still, the car always stayed around 50 meters behind her, and it was only on closer inspection that she noticed that this was a police car. However, we weren't followed afterwards, and we didn't feel unsafe otherwise, either. Only the Zaretski siblings were guarded 24/7 by a bodyguard because the two Israelis apparently needed more security.
Day 2: On our first day we first had a close look at everything, and we were thrilled by so much kindness on the volunteers' part. We actually wanted to go to the rink and find out if there was a possibility after all to practice a little on the same day. Unfortunately, neither our Chinese company nor our bus driver knew where the practice rink was located and therefore took us to the competition rink. We weren't allowed to enter that one yet, though, because the Opening Ceremony was to take place there 2 days later. The bus driver, who still didn't know where we actually wanted to go, then took us to the speed skating rink. Since using the ice there would probably be useless training-wise and impossible to organize, we decided to do at least some off-ice training to prepare the muscles for competition again.
Day 3: On the next day we had our first unofficial practice. The practice rink was in the same complex of buildings as the curling and speed skating rink. Unfortunately nobody was able to give us this piece of information the previous day. We had approx. 30 minutes of practice in training gear. The judges hadn't arrived yet, and a few teams were missing as well.
The Opening Ceremony was on our schedule for the evening, but we had to leave three hours earlier to get there. First of all, every team was assigned their own bus with which you'd arrive at the stadium. For this reason, there was a convoy of round about 30 buses coming from Harbin only that went to the rink at 25 km/h, with hazard warning lights, police protection and police block. On location, we then met athletes from the other competition sites. Since we thought we'd have to wait in the cold before the parade of nations, all of us had put on particularly warm clothes and then noticed perspiringly that this was not the case and we had to wait inside in the lobby of the rink, jammed together with all the other nations, for what felt like an eternity.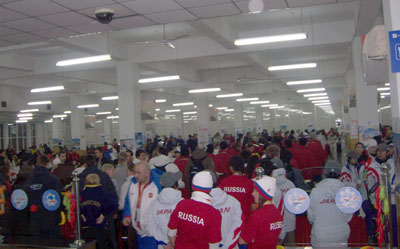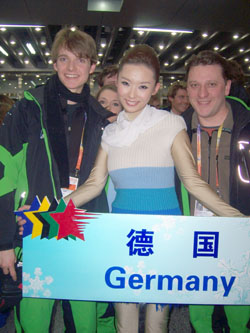 It was incredibly hot and the air got more and more stifling until we could finally march in. Beforehand, we used the time to take pictures with friends and other athletes. Moreover, national pins were traded among each other, which became a widespread newfound hobby for many during the entire event. Even the soldiers, bus drivers and maids collected them. The feeling during the parade was beyond words. It was a mixture of pride, excitement, joy and, strangely enough, familiarity. The ceremony that we saw subsequently was brilliant. Unfortunately we were sitting on the "wrong side," but it was incredibly cool. A mixture of dance, ice skating, acrobatics and singing which was combined with effects. The best moment was probably when the torch was handed over in the stadium and then lit the flame, which we could follow on a video screen. Without exaggeration, we really have to say that this was a truly beautiful ceremony that we won't forget all too quickly. It was interesting to see that there was a person in front of every section who indicated to the audience when to clap. In Germany, you know something like that only from talk shows.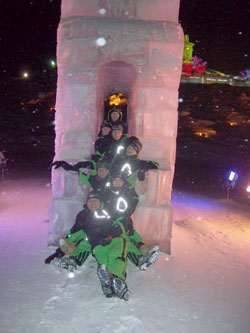 Day 4: On the fourth day, we had unofficial practice again and therefore had some time in the evening to take a look at the world-renowned ice sculpture park in Harbin. For security reasons, the police noted down the license plate and the number of the driver for every taxi which drove off with athletes. We were a little concerned, however, because we were out with ten people that night and still wanted to squeeze into only 2 cabs, so we weren't sure if the driver would take 5 people. To our surprise, the policeman and the taxi driver didn't care at all and we climbed into the taxi in front of both their eyes. The admission charge of 15 euros was definitely very expensive by Chinese standards, but it was worth every cent. It's hard to imagine, but buildings, temples and other constructions were built out of blocks of ice. These were illuminated either from inside or outside and therefore looked very pretty in the dark. Moreover, you could slide down some of the buildings, go skiing, ride track vehicles or try various other games. There was one place where a bike was provided with blades and you could ride around the ice with it. Furthermore, you could ride a llama or simply have a look at the breathtaking sculptures. We have never seen anything like this in Germany, and something like this is not comparable to a sand art festival.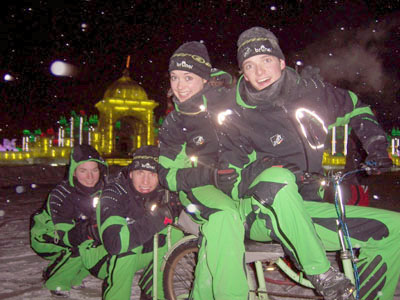 Day 5 and 6: We spent these days quietly because the competition was just around the corner and we wanted to save our strength. All of us noticed the jet lag and weren't quite able to get used to the food just yet. For the first time we practiced in the main rink, and we were amazed by the similarly strict security checks here as well. At the competition itself, many athletes got into a relaxed mood right after the Compulsory Dance. We were very happy to meet many old friends again. The arena was quite filled for the Compulsory Dance and we'd guess that 7,000 people were present. There were a few people less for the OD, and for the Free Dance there were still approx. 3,000 spectators in the arena.
After the Compulsory Dance, a reporter asked us to stay for a short interview. Since she didn't speak English, we were four people sitting together for the interview. This interview was totally different from every interview we had given so far, and the questions led into a completely different direction. Our personality, upbringing and family were the central aspects of the questions. The reporter was particularly surprised when we spoke of our 5 siblings because the one-child rule is still applied in China to this day. There was a great interest in the event as far as the Chinese media were concerned. Nearly all the competitions were televised and the newspapers covered the events on several pages every day.
Day 7: We were already a bit more nervous in the Original Dance. We had included a new extra and were anxious about how the judges would receive it. We're taking a red rose onto the ice for this which we hand over back and forth during the skate. We had been working on this since Euros and now wanted to test whether everything would work out as planned in competition as well. We even had Daniel's costume modified for this, so that he could pull the rose out of his jacket at the beginning of the program. The reactions were positive throughout, but we don't know yet if we'll also do this at Worlds. If we lost the flower during the skate, this would cost us a point, and there's indeed a significant risk that this might happen. We certainly owe our 5th place in the OD to the wobbles of the Russians, and in fact we were very happy that we could get so close to them in the first place. After all, these are the winners of the 2007 Junior Worlds....
Meanwhile, the info machines that were standing everywhere in the Village had become an important place to go. You could get information on competition results at all times there. The medals table was a popular point of reference and often a topic in conversations when you were sitting together with other nations. The cohesion among the German skaters was also noteworthy. We tried to see each other's competitions, and the atmosphere among each other was also very nice altogether.
Day 8: We managed to show a good performance in the Free Dance and were therefore very happy with the overall competition. In the run-up to the Universiade, we didn't expect much and simply wanted to skate a laid-back, good competition in order to maintain the competitive routine before Worlds. After the Free Dance, a girl went over to Daniel and handed him some roses. Daniel should admit to himself anyway that he resembles the ideal beauty of the Chinese. Allegedly, Chinese women like tall, slim, blond men. Moreover, the Chinese like Western looks, which stands out particularly when you take a look at their billboard advertising. Within these nine days, he definitely received more positive comments about his looks than all his life combined. People on the bus and in the streets approached him repeatedly just to tell him how good he was looking. He himself found all of this a little awkward because he wasn't sure if this was just a bad joke after all. At any rate, Vitali was a little jealous and complained that nobody ever approached him about his own looks.
Day 9: On our last day, we even got up a little earlier in order to go into the city in the morning. We wanted to seize the day and see some of Harbin before leaving. For once we didn't take a taxi, but went into the city center on a public bus. We didn't need a ticket because our accreditations were also valid for public transportation. On the journey there, the bus was already a bit older and we were speculating whether it would have gotten an official vehicle inspection sticker in Germany 20 years ago. At the same time we have to admit that the public transportation infrastructure wasn't bad at all in Harbin. The buses arrived in 5-minute intervals and were almost always loaded well. On our way into the city, we were a bit surprised when we suddenly passed a coal-fired power plant shortly before the city center. It was simply built between tenements and stores. This probably shows how quickly the city has grown in the last few years. According to our knowledge, round about 9 million people live in Harbin nowadays. In the city center of Harbin, there was a large Russian church and we were surprised at how many people speak Russian here. The reason for this is that Harbin was founded by Russians as a railway station for the Trans-Siberian Railway. After World War II, the Soviet Union took Harbin over from the Japanese and later turned it over to China. So much influence surely leaves its marks and our first impression that this was not a traditional Chinese city got confirmed. The many department stores, which in many cases were only accessible from a hidden entrance, were particularly impressive. It was often difficult for us to know with what type of store we were concerned in each case because the doors were covered with big, heavy curtains as protection against the cold, and we weren't able to read the signs on the doors.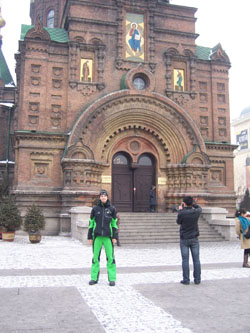 The traffic routing was absolutely chaotic and the condition of some of the cars alarming. To us, it's almost a little miracle that we didn't see a single accident. Maybe this is because the cars go more slowly and the drivers are more attentive (and honk constantly). If you have to expect that there's suddenly a cyclist coming towards you on the freeway, or that people are standing on your lane, you simply have to drive carefully. The routing of the roads was partly completely incomprehensible to us and we noticed again how quickly the city must have grown within the last few years. Even the Italians said they wouldn't dare drive a car here, and Italy would be a calm place in comparison.
Harbin has quite a large part that's subterranean. At least it appeared to us this way when we walked down to an underground shopping street. It was several hundred meters long and included many stores. You could also eat there, but out of the entire team only Andrejs Vlascenko and Vitali dared to. The two of us are a bit cautious about food from the streets in foreign countries. Vitali was totally thrilled by the food and tried several different things. The food in the Village wasn't exactly varied and he was glad that he could eat something other than rice again. The people in the city were very cooperative and always helped us instantly. Just like in the Village, there were volunteers everywhere. What astonished us extremely was how clean the streets were. We didn't see any trash lying on the street once, and if there was any, it was removed immediately. There were countless people at intersections and in the streets, just waiting for someone to throw something away. In this context, it was however also annoying that people always had to spit on the street, which then froze over. To some extent, the sidewalks were paved with small bumps made of spit at intervals of a few centimeters.
Until the end, we didn't have any time to visit the tea shop where you could try some types of Chinese tea for free. In the afternoon, Daniel therefore went into the cultural center with Zoé Blanc, Ekaterina Bobrova and Pierre-Loup Bouquet. You could first deal with the Chinese history here or also do a few things on your own. The first thing Daniel did was to have his full name translated, which is pronounced "heh dah wee" in Chinese. The name means, "A successful man is somebody with social status." They also received some cards on which simple Chinese words and their German translations were written down. It was regrettable that we only managed to go here on the last day since our knowledge so far was limited to zai jian (goodbye), xie xie (thank you) and ni hao (hello).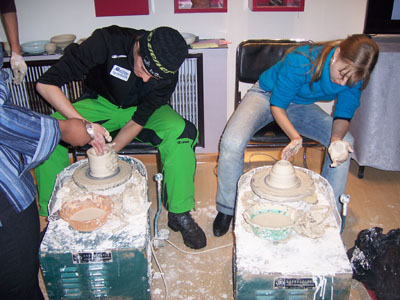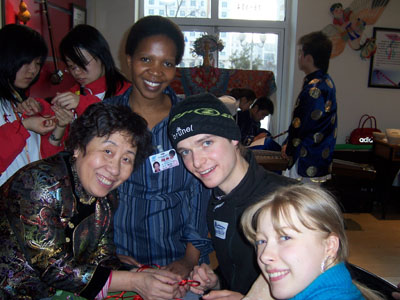 In a side room, you could tie little Chinese lucky charms, and, if you were good enough, create flowers or animals as well. A lady demonstrated how she could craft about 100 different butterflies out of shreds of paper. The butterfly is a Chinese symbol of love and Daniel's attempts failed miserably, so the lady crafted one for him. It was also nice that you could make pottery there. Unfortunately it took 5 days to complete a pot, i.e. shaping, firing, sanding and glazing. Since we'd depart on the following day, it wasn't even possible to take one with you that's half done. We were of course trying this out anyway. Daniel had to acknowledge being defeated by the Russian rival potter; even with the help of the teacher he was unable to keep up with her. Furthermore, you could learn simple kung fu movements, something that's very popular in China.
A funny story about this took place when we had practice very early one morning and were among the first people at the rink for this reason. When some athletes entered the warm-up area, they caught two security guards kung-fu fighting against each other who usually just stood motionless on their spots. When they noticed that they had been detected, they walked back to their spots bashfully.
Fortunately, the return flight went smoothly without complications. When we came off the plane in Beijing, we instantly noticed how much warmer it was there. In Berlin, we once again didn't have any tickets, but after some back and forth the problem could be solved. After all, parts of our baggage had already been sent to Düsseldorf. We spontaneously arranged a meeting with Tim who had just finished training and kept us company in Berlin Tegel for some hours. We arrived in Dortmund towards 1 a.m.
Dortmund
We took Thursday off because the travel and the jet lag became quite noticeable. In the evening, Daniel went home because we had an athlete honor there for which we were nominated. Carolina was much too tired for this and preferred to sleep a little since she hadn't felt well on the last day in Harbin, either. We came in second and had to admit defeat to a rowing team, but we could put the local basketball team behind us. People could vote for us beforehand, and to be honest we didn't expect being able to come in second.
On Friday, it was time again for the internship and also for some easy training. Daniel has to try to write another exam before Worlds, and Carolina's examinations have already started. We probably won't be in Dortmund for the Deutschlandpokal, but work with Mr. Sinicyn in Oberstdorf instead in order to get some more advice for the Paso Doble.
China was a great experience for us and we would have liked to stay a few days longer, at least until the Closing Ceremony. It was fun and worth a visit, a great competition.
We're looking forward to Worlds....
Carolina and Daniel