Journal
June 2009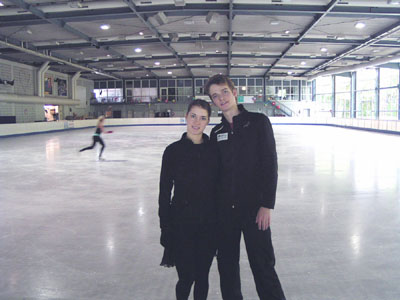 Nothing really spectacular may have happened within the past four weeks, but there is still enough to tell. First of all I've returned safe and sound from those four weeks of my basic military training, and I was so glad that I could finally be on the ice again instead of in the barracks. Next year I will have to swap my skates for leather boots and my pretty skating dresses for a greenish-camouflage battle dress again, but then this will be together with Daniel. Daniel will join the sports support program on October 1 and will have to pass through his basic military training next spring. Because of the Olympic year, I was allowed to spread mine over two years and will join him for the second half.

The sports support program of the German Armed Forces supports and assists the athletes so much that it's just fair that we athletes take a look at the military aspect. A normal day in the barracks begins with a caring "Platoon IV geeet uuuuuup" at 4.55 a.m. At 5 a.m. everyone then has to form up in a blue track suit, so that attendance can be checked and illnesses can be reported. Service breaks differ a lot from day to day. Sometimes there is none at all, but sometimes we were lucky and could spend the time between dinner (4.30 p.m.!!!) and lining up for cleaning the barrack rooms (9.30 p.m.) doing personal stuff. However, this rarely happened. Most of the time, the training continued after dinner. Everyday life is dominated by little sleep and physical strain that you're not used to.

As a result, I was glad after this time that I could launch into our choreography of the programs. There were also still some small surprises in between; we were very happy about the roses and chocolates that we received from various friends at the rink on the occasion of our successful past season.

The past year was indeed a very special one for us, not only because of the successes that we achieved, but also because of all the minor things that happened in everyday life. We'll do our utmost to build on those successes next year, but first we'll have to take care of the pre-season preparations, and Daniel has to take care of his university degree. Last month he managed to catch up on the exams that he had missed, and also to work on presentations and the like ahead of time.

Music, choreography, costumes, summer training camp, planning the season... In many cases the off-season is at least as stressful as the competitive season. Therefore it's highly motivating to receive certain news, such as that we've been called up for the Top Team of the NRW Sports Foundation and that we'll be part of the Olympic squad when we'll be representing the German Skating Union next year. Maybe our German team will also make it to the World Team Trophy next year. The six best nations are allowed to compete there and send two men, two ladies, one pairs team and one ice dance team each. The World Championships are the qualifying event; according to the placements, points are awarded and the countries with the most points are allowed to go. The competition was held in Tokyo this year, but unfortunately we just missed the qualification. Behind the USA, Canada, Japan, Russia and France, China was just ahead of Italy and Germany and could therefore qualify.

Last week, we went to the Roncalli Circus with a friend. We were really lucky with our tickets and had front-row seats in a box. The Roncalli Circus has been in existence for nearly 3 decades and offers a truly outstanding and entertaining program. The ring, however, seems really tiny compared to an icerink. In my opinion circuses have a charm totally different from figure skating anyway. This year's program consists of the most different kinds of show numbers, which are put together sometimes more, sometimes less coherently for the spectator. There were only a few which I would call rather unspectacular, whereas we were sitting open-mouthed for the most of them, enjoying the show. Since we have some show experience as well, we couldn't deny ourselves some comparison every now and then. Our personal highlight definitely was that we were selected from the audience in order to be integrated into the show in the circus ring. Actually, I had always been positive that something like that isn't "real" and that the selected people aren't spectators, but members of the circus staff. Now I got convinced of the contrary. I became part of the plate-throwing number of the Auguste clown, David Larible.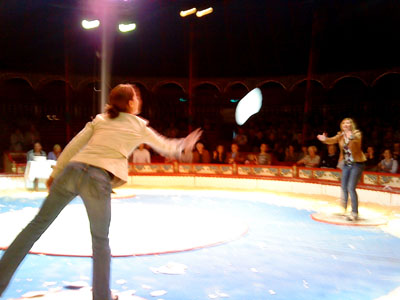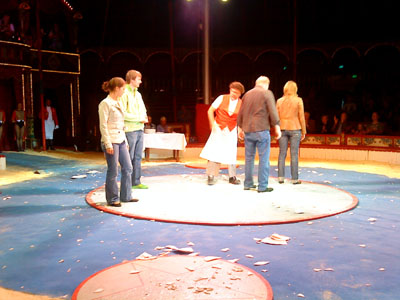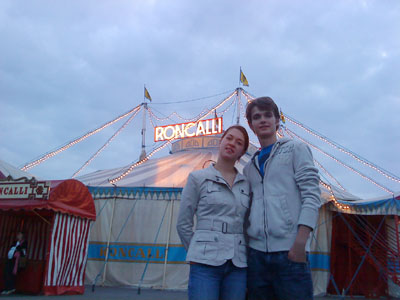 It's a well-known number and almost everyone knows it, but if it's you yourself in the ring, it's not at all boring. I gave my best, but I have to admit that it's a much different feeling to stand on a stage without knowing what's going to happen next as compared to having a fixed program to run through. Daniel was also invited into the ring in order to court a Russian beauty in her mid-thirties in a bird of paradise costume. With the charm of a buffoon, he was able to convince her of disappearing backstage with him. Or rather, she disappeared backstage with him, and as he reported later, he also left her standing there immediately and vanished again on the double. Meanwhile, the Auguste took the liberty of making himself at home in Daniel's seat in a cupid costume, so he was virtually sitting on my lap. I guess he thought we were a couple and not brother and sister. Later, during the finale, we were both asked again to dance a closing waltz with the artists.

Unfortunately, our rink will be de-iced starting June 1, and since we're bound to staying here due to Daniel's college exams, we can only go into training camp from July on. So for an entire month, we have to make do with eating ice (cream) instead of skating on the ice, but we'll make the best of the situation and focus on conditioning, athletics, acrobatics and ballet training. Subsequently, we'll go to Vancouver again to work on the programs with Victor Kraatz and his wife Maikki.

As Daniel reported in the last journal entry, he could relax a little in April and gain some energy for the following season. This hasn't been possible for me so far, but I'll do my best to recharge my batteries next month when Daniel is suffering exam stress.

We've now known for a few days that we've been assigned one of the coveted Grand Prix tickets. This unfortunately wasn't the case last year, which is why we're even happier now that we'll be going to Moscow at the end of October.

Carolina