Journal
Januar 2009
Now the year is over and we have to admit that we can really look back on a very positive year. Our personal highlights surely were the tour with Katarina Witt, our stay abroad in Vancouver, and winning the German Championships. At the end of the year, we did the New Year's Gala that we had been invited to shortly after Nationals. Since Nationals, we have been traveling with the same baggage because we haven't been home up to now. We're planning our little trip step by step because there are always changes that occur or we have to reschedule for whatever reason. Our travel itinerary last month was as follows:
Dortmund-Oberstdorf-Dresden-Berlin-Rügen-Berlin-Regensburg-Oberstdorf-Berlin-Dortmund
Dortmund: At the beginning of December, the NRW Trophy was still being held in Dortmund, which is why we had to switch to Essen for our training. Unfortunately we read the schedule wrong on both days, so that we were late for training on both days. What's more, there are always traffic jams on the drive from Dortmund to Essen at the moment, so we didn't only start too late, but in fact arrived so much too late that we had to wait 3 hours until we were finally allowed onto the ice. Therefore we only had one hour of training on Saturday. Of course we also helped at the competition and thus spent the entire weekend at the rink. On Sunday, Daniel was the announcer at the practice rink all day and Carolina took care of the practice times in the main arena.
Before the German Championships, Mr. Sinicyn came to Dortmund for a week and revised both programs and all three compulsory dances with us. He actually wanted to come to Nationals, too, but then he had to fly to another competition in Kiev at short notice. Shortly before the competition, we only had very short training sessions, but two instead of one. That's why Daniel had to skip many lectures, which he will notice during his exams in early January. He won't be able to write all 13 exams, and his two term papers (which he was actually supposed to complete during the semester) will possibly have to be delayed to March in parts, too. Overall, the last four weeks set us back in the curriculum, and the actual term break will be filled with learning and internships (and hopefully many competitions) this time as well. The last few days before Nationals then were particularly stressful because a few presentations necessarily had to be completed, which would then be given by other students during Nationals. At times, Daniel was at the campus in Iserlohn until 2 a.m. and had to be back again at 8 a.m. and on the ice at 12.
On the last Saturday before Nationals, the WDR (West German Broadcasting) visited our training. During the conversation with the commissioning editor in charge a few days later, we were invited to the ARD morning show where we were supposed to give an interview after Nationals, regardless of our placement.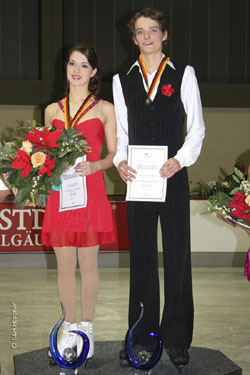 Oberstdorf: Therefore it probably isn't surprising that the German Championships felt like a vacation. The competition stretched over four days due to the schedule, though, but we could also sleep late almost every day and have breakfast unhurriedly. Carolina stayed in a double room near the rink with Dominique Dieck, whereas Daniel shared a vacation rental with the Schuberts and Florian Just. For Daniel, the vacation rental has the advantage of being able to prepare something to eat at any time, whereas Carolina rather enjoys the comfort of a hotel. In addition, we thus weren't accommodated together, which has the advantage that we don't put each other on edge. As probably all the other teams did, too, we went to Nationals with the attitude that we wanted to win. We knew that we could have a chance if we skated well. Moreover, our grandparents made the trip to Oberstdorf with us after they had been very disappointed last season that they couldn't make it to a single competition due to health reasons. The two of them were just as happy about the title as we were, even though we had hardly any time to talk to them because we always try to ignore the topic of skating during Nationals.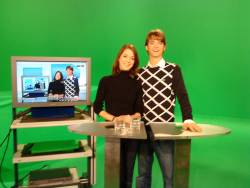 Actually, Daniel would have had an important lecture and a job interview on Monday, but after the medal ceremony, Nelli Zhiganshina and Alexander Gazsi and the two of us were invited to the gala in Dresden by an official of the German Skating Union. Of course we accepted. It was a bit difficult to cancel the interview, and the appointment with the morning show had already been scheduled, too, but we somehow managed to get everything rearranged. The ARD did a live conference to the MDR (Central German Broadcasting) in Dresden,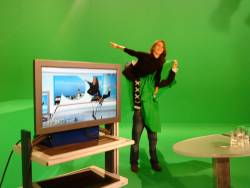 and the job interview got postponed to a date after the European Championships. Unfortunately Daniel didn't pack any clothes suitable for television, so that Martin Liebers quickly borrowed him a pullover and a shirt. After the conference, we stayed inside the studio for almost an hour and played with the cameras. We tried to have Carolina hover in the air or to have us put in another place in Dresden thanks to the technology. The actual background image was generated by a computer and we were standing in an entirely green studio (a reason why news presenters almost never wear green - they'd be transparent otherwise).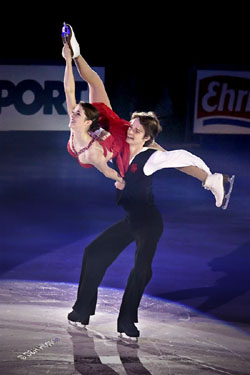 Dresden: Right after the exhibition in Oberstdorf, we went to Dresden by bus where we arrived towards 2 a.m. The hotel and particularly the breakfast were excellent. When we take the train to Prague, we often have already passed through Dresden. Unfortunately we didn't have much time either this time to see much of Dresden, but Dresden always seems quite beautiful from the train at night. At the show itself we noticed how the tension gradually vanished completely, and we also realized that we became the German National Champions. The show itself was very good, but we weren't quite satisfied with our performance. After the show, Daniel went for a walk through Dresden with two other participants of the show to see at least the Frauenkirche and the Zwinger Palace. Carolina had already set off in the morning to look at the most important landmarks. After the show she directly went to Berlin since she didn't feel like going the entire distance from Dresden to Bergen on the Isle of Rügen by train on the following day.
Berlin: Carolina stayed in Berlin for only one night before she got on the train Daniel had taken the following day. Daniel and Philipp Tischendorf were heading to Berlin from Dresden in the morning together. Actually, Daniel had wanted to go to Wuppertal from Dresden in order to pick up our father there, who had to work until the evening, but this would have gotten too stressful. It was originally planned to visit a friend in the late morning of the 24th and then start for Rügen together to celebrate Christmas there on the 25th.
Rügen: We only arrived in Rügen towards evening, and our uncle picked us up from the train station with our grandma. When our brother (number 2) Johannes came to Rügen with his girlfriend the next day, all seven children were together again for the first time in 1.5 years. We also saw our nephew Aaron, the son of number 1, for the very first time. Because of our siblings' girlfriends, our nephew etc., we were 13 persons who celebrated Christmas on our mother's farm. 11 of these also had to sleep on the farm, so this winter we even had to use the trailer and the children's bedrooms for a short time. The NDR (North German Broadcasting), which has wanted to do a report about our family for years, came over for shots at short notice because a feature about our mother's farm will be shot this summer. On December 27, we had a show in Sellin on a small ice surface. We already agreed to this last summer. Coincidentally, other skaters from Berlin were present as well, and if we had known this in advance, we surely could have put on a nice little show.
Berlin: Right after the show in Sellin, we left for Berlin by train. We had booked a flight from Berlin to Munich for 10 a.m. and were supposed to be taken to Regensburg from there. Unfortunately there was no train connection with which we could have reached the plane right in the morning. Luckily we could sleep at Philipp Tischendorf's, who also took the same flight to Munich. During breakfast the next morning we noticed that we actually didn't take our passports with us. After all, we had only packed for Oberstdorf. Daniel had also forgotten his identity card and Carolina's identity card had expired, but it's already being extended. With a very queasy feeling we then went to the airport, and contingency plans were made on the drive about how we might still make it to the show on time with a rental car. Luckily we both had a valid driver's license with us, so the check-in was no problem at all.
Regensburg: After landing in Munich, we went to the rink right away since approx. 3.5 hours of practice were still scheduled for the show. 2 hours later the show already started, and so none of us three was in the hotel before the show. The show in Regensburg was very good, and both of us had a considerably better feeling than a few days prior in Dresden. Moreover, we were allowed to skate twice here, which pleased us very much. The arena in Regensburg was well-attended, and it's always even more fun to skate for a larger audience. On the next morning we actually wanted to take an early train to Oberstdorf, but none of us could really get up, so we couldn't take the train to Oberstdorf until around 10 a.m.
Oberstdorf: For the first time since the German Championships, we then met Mr. Sinicyn in Oberstdorf in the evening and also trained a bit. Luckily we obtained a room at the boarding school here. In the meantime, a friend called us who quickly needed a room for a friend and his girlfriend and couldn't get hold of anything because of the Four Hills Tournament. Therefore there were four of us who spent the night in three beds. After the show, we were finally supposed to return to Dortmund. In fact, we were really glad to sleep in our own beds again, spend a quiet New Year's and focus on our training. The coaches from Oberstdorf will possibly come to Dortmund again before we will then fly to Helsinki.
Berlin: Actually we didn't want to go here, but because of an accounting problem our itinerary changed once again. We wanted to fly to Cologne from Memmingen and then take the train to Dortmund. Unfortunately, our credit card was maxed out because of the many bookings, so we thought we could still buy a ticket at the counter last-minute. In addition, we still didn't have passports and didn't want to take the risk of buying tickets without being allowed to fly afterwards. Martin and Peter Liebers kindly decided to take us to the airport before driving on to Berlin. The plane was supposed to fly to Cologne with TUIfly at 11.25 a.m. Unfortunately it's only possible to book a ticket up to two hours before take-off and we reached the airport at about 9.45 a.m. After debating back and forth because we could also have taken a later flight, we decided to save the money and to accompany the Liebers brothers to Berlin since Martin wanted to drive to Dortmund the next day anyway.
Dortmund: Actually, Daniel would have the main exam period now in January, therefore he will probably be thrown back by a few exams. He will try to catch up on those until March; otherwise his studies will be extended by a semester. Carolina's exams are only scheduled for March anyway, so she still has some time until her exam stress starts again.
Best wishes,
Carolina and Daniel