Journal
February 2009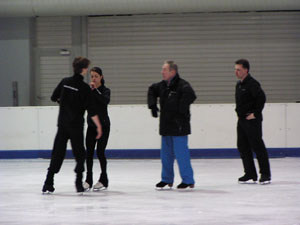 After the somewhat stressful times after the German Championships, we were glad to finally be back home in order to spend two weeks preparing intensely for the European Championships in Helsinki. On January 7, Mr. Skotnicky came to us to Dortmund to revise the Finnstep once again. Of course he was also able to help us with the other programs, so some minor details got improved here and there.
It was then exam time for Daniel as the semester drew to a close and the exam period was pending. Actually, he would have had to write 13 exams, but in that case our training would possibly have suffered. Therefore he took 6 exams and postponed the others until later. In addition, a computer virus deleted his complete data, so that photos and other university documents were lost. Daniel had one last oral examination on January 17, just one day before our departure to Helsinki. He passed with 97 out of 100 points, which consequently was the second best exam in his entire studies. People from the Olympic Base Dortmund as well as some athletes said a sincere goodbye to us and wished us good luck for Euros. A little girl handed Carolina a small self-made "Good Luck" card, which we were really happy about. In addition, we were provided with plenty Comfort Food (chocolate), Good Mood Drops (candy) and Easy Going Gums (chewing gum).
Then on the following day, we took the plane from Düsseldorf to Helsinki. We tried not to pressure ourselves and to see our first European Championships simply as a learning experience. The weather was really beautiful on arrival, almost like it was here in Germany at the beginning of January: cold, but thanks to the sun still very pleasant. We've already known many of the athletes for years, so one of the nicest aspects definitely is that all the athletes are staying in the same hotel. We were looking forward to seeing the others again who we now only seldom meet during the year. Sometimes it's certainly good when you can distract yourself from the competition for a few minutes by enjoying the time with friends. It is the days after the competition in particular when you often sit together for a very long time during meals and exchange your thoughts.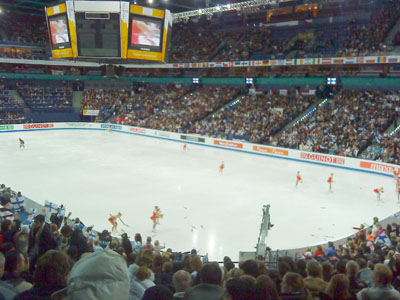 On the evening of our arrival, we had a practice session and could thus immediately get a picture of the arena in which the competitive decisions would soon take place. The main rink with its 11,000 seats was certainly one of the biggest where we have ever skated. Thanks to our performances in Katarina Witt's Farewell Tour, such a crowd is nothing that could scare us anymore, though. Of course it's still an absolutely extreme feeling for us to show our abilities in front of so many people, but we have learned to perceive this almost exclusively as something positive.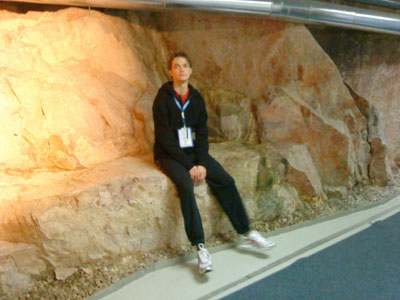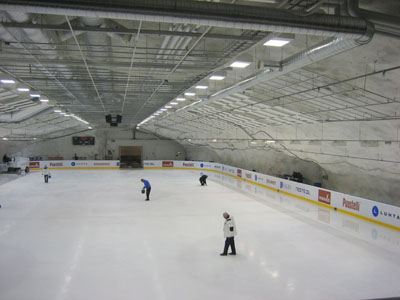 Hartwall Areena is a really beautiful and definitely also a rather special event venue. That is to say the constructors took advantage of the location being on a small rock which they integrated as a side wall in the lower part of the arena. But the most impressive part is the practice rink which is located about 4 levels deeper into the rock (in the same building as the main rink) and where you almost feel like in a cave. The pairs skaters had visible problems in the practice rink because they were afraid during the lifts that the female partners might bump against the "ceiling."
On Monday morning, the draw took place in a country-like styled part of a restaurant in the arena. Unfortunately there wasn't an official draw or a banquet. We were lucky because with our points in the World Standings, we barely made the second half of the skaters. Out of the teams being present, we were in 13th place in the World Standings, and the first 14 could automatically skate in the second half. Our first competition in the European Championships should begin with starting number 18. During the competition itself, we were actually pretty nervous because we didn't really have any idea where the judges would place us. Furthermore, you first had to present those two rounds of Finnstep as well as possible. With what feels like 80 steps per round, out of which most are little hop-moves. The Finnstep is a very original and demanding dance, but we can admit that we like the dance a lot. While we got into position for the dance, Daniel could hear how we were just announced on Eurosport, which was odd.
Since the ARD morning show wanted to do a report about the European Championships and the German participants, we were accompanied by a camera team for a few hours on Monday and Tuesday. This was new to us, we had never experienced such a media interest. This was definitely one of the biggest differences between the competitions that we skated in before and a European Championship. We also got to realize this because of a rather embarrassing incident during the Compulsory Dance. During the dance, the dress strap of a Russian skater broke and her bare breast was visible. Something like this has certainly happened very many times before, but it's getting really embarrassing when this happens at such a big competition. Thanks to nice pictures, they therefore made the front page of seven daily newspapers in Russia, and in Finland there were pictures spread over an entire double page. As far as we know, even Bild (German tabloid) reported. On YouTube, their video was clicked about 100,000 times within one day, too, while the leading Russian team only had 1,000 clicks, and today it's already over 1,200,000 views on YouTube alone.
We also got to notice the interest in the championships personally because we had to walk trough a so-called mixed zone for the first time. Here the media representatives can meet the athletes directly and exclusively right after the performance and ask questions. As an athlete, you're even obliged to stop in the mixed zone and you have to comment for the reporters. It was particularly nice when we commentated on Eurosport after the Compulsory Dance. This was truly fun and hopefully we'll be allowed to do this again at Worlds. Moreover, we got to meet Sigi Heinrich for the first time whom we had only known from his voice so far.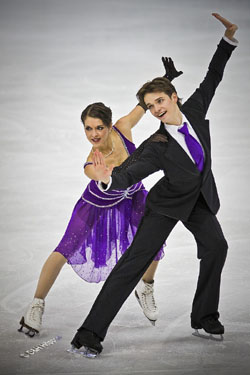 The competition for the Original Dance wasn't until Thursday, so we only had practice on Wednesday and could watch the Men's Short Program afterwards. We had to watch the pairs decision on television like most people, though, because we had practice early the following morning and this would have gotten a bit too late otherwise. In a competition, it can happen that you're on the ice at 6.30 a.m. and you have to deliver 100% of your physical performance, so that the alarm clock already goes off at 3.45 a.m. To that effect, we were lucky that we were in the 4th warm-up group again, so that we could set the alarm for 5.00 a.m.
Unfortunately we lost a placement in the OD, but we weren't that disappointed or sulky over this. We received level 3 for our step sequences, which is quite good for such a competition with competitors like these. We lost points in the spin and in the twizzles, which regrettably weren't executed all that cleanly, so we only got level 2 for them.
We were strongly supported in the stands, most notably from our parents and our grandma who traveled here specifically for the Original Dance and the Free Dance. We were even happier after the Free Dance on Friday: 12th place. We were probably the ones who expected this least of all, so it definitely took us a moment to realize this. There was a champagne reception at night with the coaches, our parents and everyone who wanted to clink glasses with us. This feeling when a competition is successfully completed is beyond words. All the stress, the strain and the pressure is simply gone within a few hours. Usually you get really hungry because you realize that you've hardly eaten anything all day. At this point, the only one who couldn't enjoy this feeling yet was Annette Dytrt. Her Free Skate was still to come. Then on the following day, all German skaters met to celebrate together. From a Finnish point of view, the Ladies' Free Skate was the highlight of the event and the arena was nearly sold out. The atmosphere was incredible, and round about 10 flower sweepers were dashing across the ice after each program to collect all the flowers and stuffed toys.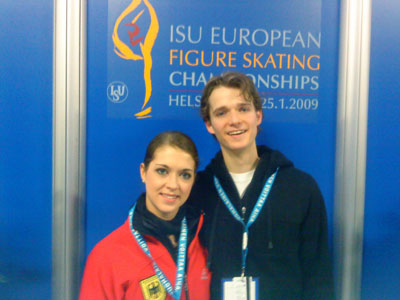 For us, the European Championships were a complete success. Even if you added the three injured teams to our 12th place, we'd still be in 15th place, which would have been enough to qualify for the World Championships in Los Angeles. Back in Dortmund, we were warmly received; even a painted bed sheet was hung in the rink in honor of us. We're really happy about all those many nice congratulations that we received. Thank you.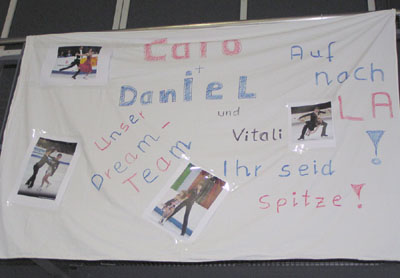 Daniel had to attend his internship right on Tuesday. By the end of March, he has to account for 8 weeks of internship in order to be admitted to the bachelor thesis in July. In addition, he has to make up for the 7 postponed exams.
The following weekend, we went to Rügen to our mother on the occasion of our grandpa's 80th birthday that we celebrated with our family. By now, barely a week remains until we'll fly from Düsseldorf via Beijing to Harbin to the Universiade on February 15. Our outfits from the adh (German University Sports Federation) already arrived and we also have our visas by now...
Best wishes,
Caro and Daniel