Journal
December 2009
Another month is over, which means that German Nationals are approaching. The Compulsory Dance that will be performed at the European Championships, and thus also at the German Championships, has just been drawn at the Grand Prix Final in Tokyo - it's the Tango Romantica. However, before it's time for Nationals, we'll still be very busy, even though it's only a few more weeks.
At the beginning of November, the NRW Trophy for Ice Dancing took place in Dortmund. This competition had been on our schedule since the beginning of the season. First of all, this was an official ISU competition, which therefore could be counted towards the Olympic qualifying. In addition, this competition took place in our practice rink here in Dortmund. It is always really special for us to compete here in the neighborhood because many friends, family and acquaintances come by to watch our performances. Therefore it's difficult to get into a typical competition mood since you neither travel someplace else, nor do you experience the typical competition routine. In order for World Standing points to be allotted at a competition, it is necessary that a certain number of competitors from different countries take part in the competition. If there are many last-minute withdrawals, it can happen that a competition suddenly gets far less interesting because of this. At the NRW Trophy, we were afraid until the end that not all teams would actually compete (one team, e.g., was also signed up for another competition in Slovakia at the same time) and that there wouldn't be any point allotments because of this. Luckily, this wasn't the case; there were even more teams competing than necessary, so that this competition offered the opportunity to meet the Olympic standard.
For the first time in competition, we showcased our Golden Waltz. As mentioned last month, the Golden Waltz is one of the most difficult dances in ice dancing, and we were eager to see it skated by other teams in competition. Considering the fact that we have only been skating this waltz since this very season, we had a fair showing and we were quite pleased with our third place. The entire competition was attended by a local TV crew that filmed short reports about younger teams and us. It was a shock to us when we received an e-mail about 2 hours before the Original Dance on the following day, an e-mail in which the requirements for qualifying for the Olympic Games had been changed, or rather stated more precisely. For us, this meant that we didn't stand a chance anymore of meeting the qualifying standards for Vancouver, even if we reached the required 145 points at the NRW Trophy. We were both a little confused when we entered the rink for the competition, and we tried to suppress this fact and to focus instead. As it turned out later (after the OD), our coaches didn't know anything about that e-mail, and it was only on the next day that the news had gotten around in the rink. To make matters worse, our washing machine broke down during the competition. Since it was a pretty old one, a family friend announced in jest that he'd give us his own one as a "consolation prize" if we advanced to 2nd place. This was exactly what happened, although he himself probably didn't really expect it. We had the best part of the competition and the best performance of the season in our Free Dance. Making no mistakes, we reached very good levels here, as well as very good components, and we even earned the highest Free Dance score. Still, we couldn't really rejoice because we knew that, despite the 161 points, our goal for the current season had become nearly impossible.
After the competition, there was a little casual banquet, which of course couldn't bear comparison with the big events, but it had its charms. We felt a bit like being back in our junior years and had to laugh a little when we noticed how astonished the younger athletes were when they saw our coach and us on the dance floor.
Although it's somewhat hard for us because our competitive situation is uncertain at the moment and everything seems a bit messed up to us after all, we surely won't give up before we haven't at least competed against our direct rivals. With this attitude, we tried to turn the upcoming competition in Canada into a more positive light. It is actually an honor to be invited to such an event. Everyone ought to be aware that only the Top 30 teams in the world get to go to the Grand Prix series, which means that the level is considerably higher than in other competitions. We didn't really have a choice anyway; according to the ISU regulations, you have to participate in a Grand Prix event as soon as you're invited, and cancellations are only possible with a medical certificate. We had originally preferred to go to Olomouc that weekend since we were hoping that we could meet the Olympic standard there more easily. Still, we knew that Skate Canada would be a great competition, so we were looking forward to it anyway.
When we started practicing again on Tuesday following the NRW Trophy, we both felt pretty much washed out and therefore only practiced a little before we stopped the practice altogether. We were both sick on Wednesday, and we were actually thinking that we wouldn't be able to go to either Canada or the Czech Republic. Through Saturday, we were both lying in bed with a flu-like infection. Attending a practice was absolutely impossible. It was only on Sunday when Mr. Skotnicky came to Dortmund in order to adjust the Tango to the smaller North-American rink sizes with us that we returned to the ice for a bit. On Monday and Tuesday, we tried to somehow manage a run-through of our Free Dance before our departure, so that we'd feel more secure in the competition. Even though we've already presented this program several times and there's no step that we'd really have to think about, it is actually more comfortable to go into a competition without the knowledge that the last complete program dates back almost 2 weeks and an overcome illness. In Kitchener, we were coached by Mr. Skotnicky during the competition because Vitali had to take care of the other teams in Dortmund. Up until then, he had been to every competition with us, so we could relate to the other teams' need of being prepared for their upcoming competition in Lyon.
During our training, we've noticed that we occupy sort of an exceptional position in Dortmund this season. Vitali takes a lot of time for us in practice, and when Mr. Skotnicky comes to Dortmund, we work almost exclusively with him. The other coaches make time for us to play our music, and they often even give us the advantage in the waiting line. The people we probably have to thank most of all are the other athletes who accept all of this in order to help us. We really appreciate this, and it helps us a lot with our work on the ice.
Early Wednesday morning at 5 a.m., the big journey started and we were flying to Toronto together. From there, we were taken to Kitchener, which is close-by, by bus. We got a bit lucky with our flight because the plane wasn't fully booked, so we had a little more space and managed to sleep at least for a little while. Moreover, we met other skaters from different countries on the plane who had booked the same flight.
Mr. Skotnicky had already given us advance warning that there isn't much to see in Kitchener or in the adjacent city of Waterloo. We were very much looking forward to Canada anyway because figure skating really has a different status here. The arena where we competed wasn't particularly big, maybe designed for 8,000 spectators, but all the events were well-attended and sometimes even sold out. There were live and tape-delayed television broadcasts on different channels, and not only the front pages of the daily newspapers reported about the event at length.
At such a big competition, all the athletes, coaches, judges and officials are usually accommodated in one big hotel. This is also the place where the accreditations take place, as well as the meals, opening ceremony and closing banquet. In addition, this allows for the simple solution of having a bus shuttle between the rink and the hotel at regular intervals. Sometimes, however, you can still be unlucky and have to be prepared for a 45-minute drive several times a day. In Kitchener, though, we were lucky and got to the competition site within 10 minutes.
Caro's hotel roommate Sarah Hecken arrived directly from her first Grand Prix in Lake Placid. There she had managed to reach the required number of points for the Olympics.
The schedule for the next day included practice in the morning and in the afternoon, and in addition, there was an opening event planned for the evening. Actually it's common practice to have such an opening event in the form of a small reception at the beginning of a competition, but many organizers neglect this part to save costs. The Canadians, however, are known for keeping such traditions, so there was even a short speech by ISU President Ottavio Cinquanta about the future of figure skating. We went to bed early that night. In principle, our illness of the previous week was cured, but we definitely weren't 100 % fit yet and needed a lot of sleep to make it well through the following strenuous days.
The Tango Romantica went well, and except for a small mistake towards the end of the first pattern, we were pleased with our performance. Even some judges mentioned to us that we enhanced our performance considerably compared to the previous competitions. The next morning, Carolina's alarm went off as early as 4 a.m. because we had a practice scheduled for 6.30 a.m.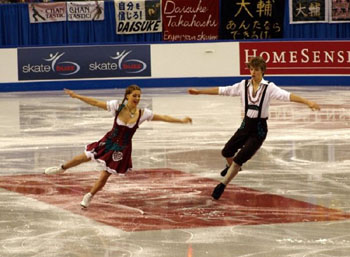 In the OD, which took place in the early afternoon, Daniel unfortunately blundered in the twizzles, and we had problems with the midline step sequence because of the smaller ice surface. We were happy when we saw that we had overtaken the team ahead of us in the components and that we received more points than at the Grand Prix in Moscow to begin with. All in all, our Original Dance was received very well by the audience, and the fact that Canadians from Kitchener are a bit besotted with German chlichés and traditions may have added to that. To give an example, the world's largest Oktoberfest outside Munich takes place in Kitchener every year, and there was a store next to the hotel in which you could buy dirndls.
In the late afternoon, the pairs competitors showed their free programs, and it was particularly us Germans who were thrilled with Aliona and Robin's good performance. As the first pairs team ever, they received a perfect 10.0. Sarah, too, could be very pleased with her 7th place in the free skate. Unfortunately we could only see this on the TV broadcast since we still had our own free program the next day. Of course we were a bit jealous of the others who had already put all the stress behind them. After all, there's always quite some nervousness during an important competition. The Free Dance was planned for the following day as the conclusion of the entire competition; after all, the highly favored Canadians Tessa Virtue and Scott Moir were competing and were considered the highlight of the event. The star status they have reached in Canada by now really is incredible. Almost every day there were large pictures on the front pages of all kinds of newspapers and magazines, and their programs were repeatedly shown on television. Even the news reported on the competition. While warming up before the Free Dance, Scott told us that he was still nervous despite the big lead and the status as a clear favorite.
Like in Dortmund, the best competition segment was the Free Dance. Here we were even able to clearly reach the 6th place. Sadly, a total of .02 points then determined that we couldn't move up one placement in the overall standings, too. With 141.61 points, we unfortunately couldn't reach the Olympic standard of 145 points, which upset us personally. Even at a Grand Prix event, this score would have been manageable.
After the Free Dance, Carolina had to take a doping test for the 4th time since the beginning of the season. The procedure isn't particularly exciting, but it takes about 2 hours every time.
In the evening, there was a big banquet to conclude the competition, something that is only rarely done these days. We had already been very impressed during our first Skate Canada Grand Prix in 2007 because the organizers had chosen the then suitable theme of "Halloween" at that time. The entire hall had been decorated and even the guests had been invited to dress (up) in black or "scary." You can imagine that no athlete had coincidentally brought a proper costume or was willing to buy one there. But the organizers had thought of that, too, so there wasn't only a welcome drink, but also some props for everyone who was interested, e.g. a witch's hat, a rubber rat, vampire fangs or the like. This year, the night was themed "Metal," i.e. gold, silver, and bronze. Right at the beginning, small cards with different words were distributed with one word always matching that of another card. For example "Ice" - "Dance" or "Fox" - "trott," so that everybody was running around to find their matching partner. After dinner, there was a dance competition in which everyone could participate with their partner. The dances that were performed were waltz, hip hop and tango, and a judging panel consisting of Mika Saarelainen (Finnish skating judge), Benoît Lavoie (the president of the Canadian federation), and Peter Krick (Chair Sports Directorate of the ISU) assessed the performance. This wasn't exactly about true ability, but rather about the entertainment value of the performance. The first round was won by a spontaneously formed dance couple consisting of pairs skater Dylan Moscovitch and ice dancer Evan Bates, who stood out from the competition because of their soft waltzing movements and their delicate lifts. Since only two other dance couples had had the courage to perform, you were then directly and inevitably prompted by the judges, so that out of the German team, even Mr. Skotnicky, Ingo Steuer and Daniel had to shake a leg. Daniel's partner was already a bit older and, to this day, nameless to us. However, this was no reason for Daniel to act shy or distanced while dancing hip hop, so hips were properly shaken until the two of them could call the attention of the entire hall their own. Tears of laughter were already rolling around at the German table when the two of them were then indeed awarded a small medal as the winners.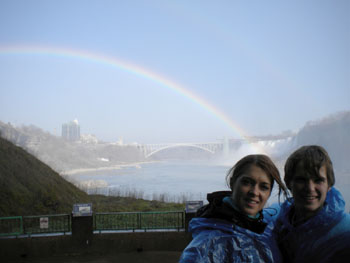 Since our flight only took off towards 10 p.m. on the following day, we had almost the entire day at our free disposal. Since Kitchener is rather small, we decided together with a friend and Mr. Skotnicky to go to the Niagara Falls, which were a two-hour drive away. Understandably, these became a world-renowned tourist attraction, and the entire area is designed accordingly. This does not, however, change anything about the impressive image that the masses of water convey when you look at them. We could most notably feel the incredible power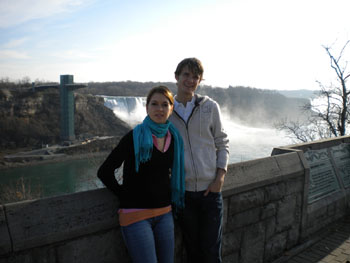 when we went behind the falls in an elevator, so that the masses of water dropped right in front of us. Going there is definitely worthwhile even though we were a bit unlucky since the wind blew in such a way that we got pretty wet on the observation platform.
Although the next three weeks will be very tough for us, we know that everything will get better again. Both judges and our coaches attest this again and again, which is why we stay motivated. Shortly before the German Championships, we'll compete in Zagreb to maybe collect a few important points for the World Standings there. We're currently in 26th place in the World Standings, and with a 25th place at the end of the season, we'd have at least one Grand Prix start secured for next season. Zagreb offers ice dancers the last chance of the season to collect points if you're not participating in the European or World Championships or the Olympics. We'll be going to the German Championships almost immediately after Zagreb, and then we'll finally be able to look forward to Christmas, too.
Best wishes,
Carolina and Daniel