Journal


December 2008

Hello,

We can hardly believe it, but it has again been a month since our last entry. At our last entry, we were at the NRW Trophy and right before the Original Dance (OD). The OD was alright, even though Daniel made a little mistake in the spin. Unfortunately we made several mistakes in the Free Dance, and in addition Daniel cut himself while holding the blade in the twizzles. Of course this bled in the warm-up, and we wrapped plasters around it before we skated. Since those plasters stick to the fingers only very poorly, Daniel threw them away at the beginning of the third part (in order to prevent them from falling onto the ice), so that our costume was bloody afterwards. After the Free Dance, we finally had some time again to meet our grandparents and our father. Besides our studies and training, there unfortunately isn't much time left for friends and family. That's why we're particularly happy that the German Championships will take place before Christmas this year, so that we can thus go visit our mother on the Isle of Rügen with our father over Christmas. Our three littlest siblings, whom we haven't seen since our return from Canada, live there as well.

The competition in Olomouc was almost a bit too routinely for us, and consequently we were flying to the Czech Republic rather laid-back. Maybe this was also the reason why we skated so poorly there. After our arrival in Prague on Thursday, we met Nelli Zhiganshina and Alex Gazsi at the airport to go to Olomouc together. At first we took the bus to the train station (since we're in Prague approx. 3 times each year, we know our way around there very well) and wanted to take a train to Olomouc from there. Unfortunately we missed the train by 10 minutes and would therefore have had to wait two more hours until 1 a.m. for the next one. Luckily we then discovered a Russian night train to Moscow which would already leave at 12 a.m. Sadly, we weren't allowed to take this train with our tickets and we were charged an extra 10 euros per person, which we had to pay in cash to the conductor (!?!). In return we could eventually come along, hidden in three cabins, and arrived in Olomouc towards 2 a.m.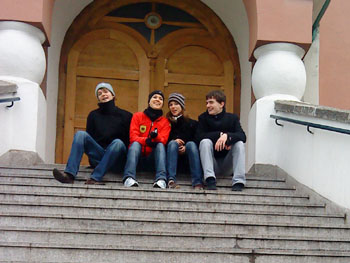 Although we've already been to Olomouc several times by now, we went for a walk with Dominique Dieck and Michael Zenkner the next morning because we didn't have practice until the evening. We noticed how much the Czech Republic has developed within the last few years, and we believe we can see the accession to the European Union. You can also perceive this when looking at the exchange rate: from 1 euro to 33 korunas in the past, you only get 24 korunas for one euro nowadays. The rink in Olomouc is already very old. You could almost call it a bit creepy because the warm-up area is anything but pretty and smells a bit of rat urine. Luckily it wasn't that cold this year, but two years ago we could only warm up in our winter coats. In addition, your hands soften in very cold rinks and you have less hold with your partner. In the lifts, this becomes particularly noticeable because you slip off the costume easily.
The Compulsory Dance was probably our best part of the competition, even though we had only practiced the Paso Doble for two weeks because we had skated the Viennese Waltz at all previous competitions. We were insecure in the OD, but could somehow get through the program, whereas in the Free Dance, Carolina fell in the diagonal step sequence of all things. We were indeed a bit disappointed when we were only in 4th place in the end. However, this was in accordance with our performance there, and we were more displeased with ourselves. On our way back, we discussed this for a long time with Vitali and were pondering over what might have been the reason. We had enough time since the return took nearly 12 hours overall. During the banquet, we talked with the two Brits whom we still knew a bit from Oberstdorf. It was very funny when the father of a Czech girl showed us pictures of our programs from 4-5 years ago. He had a small collection of pictures from the last few years with him, and together with the other skaters we had fun looking back on those years.
Since so many competitions in such a short time are exhausting and the return from Olomouc was not particularly pleasant, Carolina unfortunately fell a little ill, so we took Monday and Tuesday off. On Wednesday, Daniel talked on the phone with the German Skating Union, and it was suggested that we'd compete in Bratislava after all (as initially planned, but unfortunately we didn't get a spot to compete). Luckily Mr. Skotnicky has very good connections to the Slovak Republic, and he was able to secure us a spot after the Austrian team had withdrawn. It was our intention to skate a good competition before Nationals i n order to get some extra motivation.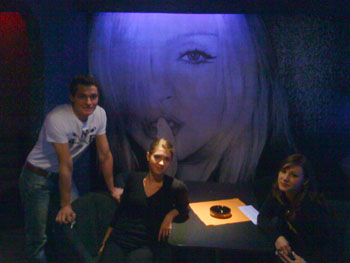 The tickets to Vienna therefore weren't booked until Thursday, and on Friday morning we were flying to Vienna. This time we were taken care of by Mr. Sinicyn because Vitali couldn't take time off again on such short notice. From Vienna, we went to the train station in Bratislava by bus and then took a taxi to the hotel. We still knew the hotel very well from last year and have to admit that we weren't particularly thrilled. A discotheque is located to its right and a nightclub to its left in the same building. The competition itself was well-organized, and we were also far more pleased with our performance. It was funny that the draw took place in the nightclub and it therefore was a very special atmosphere. In the first night, something happened that we've never experienced in such a way. The locks of the hotel room doors didn't lock automatically when the doors closed. This is why we had to lock the doors at night, so that nobody would be able to come into the room. Unfortunately some skaters forgot to do this, and passports and money got stolen at night. Sascha Rabe reported that he also woke up at night because someone illuminated him with a flashlight, but he was too dozy to interpret the situation correctly and fell asleep again. Fortunately nothing got taken away from him or from Martin Liebers, either.
The competition went quite well for us. Never had we anticipated beating the Russian team, and we were also very surprised at our total score. Never before had we collected that many points and even missed many points at the same time. Particularly in the lifts of the Free Dance we didn't always get level 4, and in the spin we also made a little mistake. Still, the placement and also our skating itself was much better than the previous week in Olomouc and we didn't regret going to Bratislava. In addition, we could collect points for the world standings, and now we're in 28th place in the world standings and thus the best German ice dance team.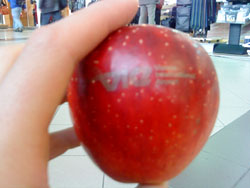 A judge took us back to Vienna so that we didn't have to go to the train station and then take the bus back. We were at the airport towards 6.40 a.m. because we had already booked a flight for 8 a.m. since Daniel had a presentation in the afternoon. Unfortunately, the departure got delayed to 10.20 due to a snow chaos in NRW, and so we had 4 nice hours at the airport in Vienna. At first we slept for two hours on a bench in the arrival area until we explored the airport a bit. Thereby we discovered a booth where apples were distributed for free. The logo of the airport was incorporated into the apples, which had Daniel especially fascinated. The idea of getting such a cool advertising space for so little money was just too brilliant in his opinion.
Of course Daniel was too late for the presentation since he arrived at university just as his friends had finished the presentation. However, he had already called them from Düsseldorf and had thus sorted everything out. Without Gerrit and Martin, he would sometimes really have a problem at university...
On Friday, November 28, we then did a show at a small rink in Witten. This was again very spontaneous because we didn't get an acceptance until Thursday evening.
Monday through Wednesday Mr. Skotnicky was in Dortmund with Alex and Nelli, and we worked on the Finnstep and the other Compulsory Dances. In addition, Daniel had another exam on Wednesday and has now made up for almost all the exams, so he's officially in his 5th semester now. In January, however, the next exam period starts for both of us, and until then another paper and a business plan have to be written. Within the last few weeks, the two of us have also increasingly looked for an internship starting in January in order to still have a balance to our training during the semester break. Daniel's first interview is on December 22, 2008, therefore right after Nationals, whereas Carolina is still waiting for an acceptance. This past weekend, we were in action as volunteers at the NRW Trophy, and since Monday we've been preparing for Nationals (December 17-21 in Oberstdorf) with Mr. Sinicyn.
Merry Christmas
Carolina and Daniel