Journal
August 2010
In our journal entries from the last couple of months, we tried to elaborate less on the rather negative aspects that we've been concerned with for a long time, because there was no "solution" whatsoever in sight by then. To be honest, we've been very worried about the future of the ice dance team Hermann-Hermann since the World Championships in particular, but also before that. We were simply at a loss. The past season was a heavy load on our shoulders because we noticed how quickly you get dropped if things aren't going so well. In addition, we were very, very worried about our professional future. After all, our studies have been in the doldrums since the beginning of our time with the German Armed Forces.
However, this entry will be different. We'd like to explain frankly to everyone why we made what decisions, so that we can disprove some rumors right away.
For this reason, this entry will also be less about what we have done this past month, but rather describe how we were faring where we were, what we were thinking, and what purposes we had in mind when we put our thoughts into practice. In some parts of this journal, we will therefore each explain our own motivations.
In order to not go too far back, let's start by saying that the last season didn't go ideally. To be honest, it ended in a disaster which hit rock bottom in the missed qualification for the Olympics, and the bad result in the World Championships took us down even further. Of course there were wrong decisions that we made, but the situation as a whole remained a mystery to us. We had fully and completely focused on the sport and had tried to make the best of every situation. We had been willing to give absolutely anything to reach the set goal for the season. Alas, we didn't make it. However, the great disappointment was not that we didn't make it to Vancouver, but that we didn't get any reward although we had been willing to do anything. (At any rate, we learned more from this season than from any other one.)
For the short term, we managed to get enough motivation to quickly create a new Free Skate in April right after Worlds, and we were hoping to get some distance from skating during the basic military training. The first 4 weeks of the training went by and we still didn't know how and whether we wanted to continue, and slowly but surely we got really nervous. From then on, we started to find out the reasons for our lack of motivation in weekly sessions with a psychologist.
Carolina: I feel very committed to ice dancing and I think that I've found the right sport for me. However, it happens all the time that athletes rely on this notion and don't notice that the actual important life (family, job, friends) passes them by. You should realize when the right time has come to throw in the towel or to strike a new path, respectively, and not be naïve and believe that everyone will have a big success at the end of their career.
Daniel: For me, it's important to always do something for your brain besides the sport. The past season was the first time I concentrated 100% on figure skating only. I noticed how dull you turn as far as other influences are concerned. Focusing 100% on the sport entails that nearly 100% of your life centers around the sport. Therefore it's for certain that I will begin my postgraduate studies in addition to the sport.
My problem on the ice is that it often takes me longer than Carolina to learn certain movement sequences. Moreover, I have problems concerning the basics, so it's essential to catch up on that. Despite that, the dance on the ice, the gliding and the training are exactly what I want to do. However, you have to ask yourself the question when the time has come to accept reality and your own performance limits.
Each of us could understand the other's reasoning. We're not 10 and 11 years old anymore when it's quite nice to do the sport besides school. This here is about decisions that might still be relevant for your life 20 years from now. To release the tension between the two of us, Daniel was allowed to apply to several universities and Carolina had permission to look for a new partner. Each one should first work on their own ideal concept in which we see the best chances to self-actualize.
After the basic training, we initially had to stay in Wuppertal for a week because we still had to take some medical tests for the German Armed Forces. We both used this week to realize this individual concept: thinking about locations, looking up study programs, or approaching partners for Carolina. We had agreed that Daniel would approach these potential partners so that nothing would be official yet.
On Friday of that particular week, the German Armed Forces relocated us to Sonthofen, so we took the opportunity to talk about the problems with the head coach. Not only shocked, but outright appalled, we agreed to go to the German Skating Union the following day to explain the problem. The federation, too, was initially highly suspicious of our plan, but after three hours of talking, they were also able to at least understand our reasons. Right after that, we informed our regional federation and our old coach Vitali with whom we still have a good rapport.
On Sunday, we drove to Lyon and explained our situation there as well. Eventually we decided to take a break from each other for a week. Carolina stayed in Lyon and Daniel wanted to take a week's vacation.
Daniel: When I stayed in the rink for another couple minutes after the talk, it sunk in how attached to figure skating I still am. Seeing Anna and Luca warm-up on the ice and the other teams refining their programs diligently aroused the incredible and immediate urge in me to return to the ice. I had to go back on the ice immediately and arranged a practice in Oberstdorf for the following day.
Even though we had already driven about 600 km that day from Oberstdorf to Lyon, Daniel started to drive back to Oberstdorf that same night, against the will of Carolina and Luca. The drive took a good 15 hours. After he was only a good 100 km away from Lyon, he realized how tired and worn out he was due to everything that happened on the previous days. As luck would have it, the power window in the car busted and the window on the driver's side remained completely open from then on. With all the things he had in Lyon (after all, he had already moved out that day), Daniel tried to sleep for some hours with an open window at some rest stop.
Daniel: During the drive, I spent a lot of time thinking that the situation would have been so easy with Carolina around. I arrived in Oberstdorf with a delay of almost 9 hours. Normally, we can always take turns, and when one of us isn't able to drive any further, the other one took over.
Once in Oberstdorf, the training was very good and kept on motivating me. Luckily, Vitali was there and integrated me into the training group immediately, and Mr. Skotnicky started with the basics training that we had agreed on.
Carolina: I stayed in Lyon all week and practiced with the other teams. However, I quickly had to realize that a permanent training partner is very important for me, and under no circumstances did I want to face a season all by myself. Moreover, I hold Daniel in high regard for his attitude in practice. Lyon is a wonderful city and the training concept is very good, but unfortunately there are no possibilities to advance in your professional career. We'd first have to live here for a few years in order to reach a level in the French language that would make studying here possible, and it would be difficult to bridge the time gap. You mustn't by any means be so naïve and think that skating alone will finance your future life.
On Friday, Daniel was approached by our new boss from the German Armed Forces, who asked both of us to get together for another talk. Carolina had wanted to come over for a seminar anyway, and so she traveled to Oberstdorf on Sunday.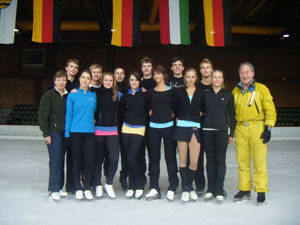 When Carolina came to Oberstdorf, the situation was quite awkward for both of us at first, but after Caro went onto the ice and we quickly greeted each other, we instantly began (actually we just wanted to shock the others and stir the whole rumor pot just for the fun of it) to skate together again and we did some simple basic exercises. The next few days went by, and we kept skating together. While we were training, we started to talk about the past few weeks and what we underwent.
At the same time, we knew that we had to come up with a solution by the end of the seminar. Daniel had been accepted by a very good university abroad in the meantime and would have been all set to give up his position in the German Armed Forces for that. Contrary to this, we decided during our talk with the German Armed Forces to keep skating together.
In our situation, it was particularly difficult to find a suitable training town. Not only did we look for an ideal training environment, we also required that place to offer us professional perspectives. Oberstdorf thus had to be eliminated from the list quite early, and the choice was between Berlin and Dortmund. At the time, we had made a list for fun to help us figure out which factors are important to us:
First of all, the local conditions have to allow for a performance-oriented training, so the rink should have flexible sessions for ice dance and be at the team's disposal for up to 6 hours every day. Also accommodate a ballet studio, gym and other sports facilities. The probably most decisive factor is a smooth-working coaching team that adapts to the needs of the athletes. Group practices with other senior teams should be offered, as well as perfect individual lessons that should each be in line with an additional training that's supported by trained and experienced coaches. Let's not forget the proximity to a university, so we can both pursue studies. It would also be nice if English or French were given preference in our training so as to guarantee a continued active exposure to the languages. Another point that shouldn't be underestimated is the age and performance level of the other athletes. After all, you should have your targets in sight on an everyday basis to stay ambitious and to ensure a challenging training atmosphere. Add financial interests or the interests of the German Armed Forces, the federations or our family that we have to keep in mind as well.
At some point we made the decision because we thought we'd at least closely find this in Berlin. One day later, we called Berlin and decided for ourselves to spend the next two to three weeks there for a try-out. We're sorry for turning our backs on the training base in Dortmund for the time being, but we're hoping you understand that we had to make this decision for ourselves and our career. Only if we try out things now and look into every option can we be sure in the future that we've done everything for the sport.
Of course we're aware of our huge backlog in the course of the current season. Moreover, we don't know yet which competitions we will take part in. However, over the past few years, we've never been known for already being strong in the summer. Many people won't know, but we were also contemplating splitting in 2006/2007 and had a miserable preparation for the season. In the end we became the German Junior Champions and placed 10th at the World Junior Championships, which remains to this day the best result since the Beier siblings.
Carolina and Daniel
A few more remarks:
We had the highest number of visitors ever on our website on the day when Carolina posted on Facebook that she's looking for a new partner.
We're thanking our car for the good 4,000 km this month. Admittedly, there have been situations in which we wished for air conditioning. When we arrived in Lyon, Luca commented that he wouldn't even transpire like that in a sauna.
During the seminar in Oberstdorf, there was a competition about the best way to translate the term Short Dance into German (because the athletes, judges, coaches and the officials don't like the literal translation Kurztanz). For the time being, the favorites are: Kosteneinsparungstanz (Dance to Save Costs) and Spartanz (Thrift Dance). There will soon be a final decision with all the suggestions (including the serious ones) by the German Skating Union.
At this point, we'd like to briefly disprove the perhaps funniest rumor why we're skating together again, namely that Carolina's new partner Benoît Richaud didn't get a release from the French president. The two of them have never even tried out, let alone that the French president has been asked for a release. According to our knowledge, Benoît is currently skating with a Ukrainian anyway.
We're really sorry that the team of Christina Chitwood and Mark Hanretty has quit the sport. It was a mere coincidence that we learned about their splitting, but we'd advise everyone to read up on the reasons why they split in the journal on their website.