Journal
August 2009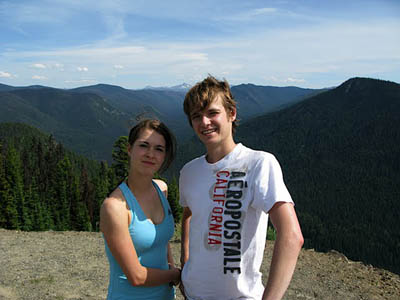 For roughly four weeks, we've now been in Vancouver again, training every morning with three other senior teams, a junior team and a novice team at the rink in Burnaby. As nice as the summer break may be, we're actually happy that we can be on the ice again. The training schedule is almost the same as last summer. At 6.30 a.m., everyone gathers inside the rink in order to warm up and to utilize the on-ice training afterwards from 7 a.m. Since we're both also staying with the same families again, Carolina has to get up at 4.30 a.m. in order to reach the SkyTrain (which is similar to the metro, but for the most part the tracks are elevated, hence the name) by bike, staying on for a few stations before she takes the bus to get to the rink in time. Daniel is allowed to sleep 40 minutes longer, but he has to deal with a 25-minute bike ride down a steep mountain in the early morning instead (which he of course has to pedal up again in the afternoon). After the on-ice training, which again takes place in the extremely cold ice hockey rink of Vancouver's hockey team, we exhaust ourselves in the fitness center nearby or in the dance lessons. The training is pretty intense and exhausting. That's why there's hardly a way to use the free hours in the late afternoon to do anything meaningful, but instead those are filled with eating, sleeping, and maybe a little chat with our host parents and babysitting. However, Daniel also has to work intensely on his bachelor thesis besides training because the deadline approaches. Everybody who has ever had to accomplish something like this or something similar knows that it's not to be underestimated to write 50 pages on your own. Daniel set himself the goal to complete this here in Vancouver.
Particularly the last days before our departure were quite stressful. On our last day in Germany, Daniel wrote one last exam in college in the morning and was then picked up by Carolina and a friend in order to get to the airport in Frankfurt together. Before our departure, we (ironically) met a good friend whom we had gotten to know in Vancouver last year and who is currently studying abroad in Mannheim for a semester. Luckily, he also happened to be with us for the check-in, so we could quickly sort out all the excess baggage and hand it over to him. We had of course booked the cheapest flight available, which included that each of us was only allowed to have 23 kg of baggage. During the check-in, our carry-on baggage was weighed first, and both our backpacks were heavier than the permitted 10 kg for each. Since the two of us also had 2 pairs of ice skates, training gear incl. running shoes, warm clothes for the cold rink, etc. with us, and Daniel had also packed some books for his bachelor thesis, the permitted weight for our other pieces of baggage was of course exceeded, too. We had already inquired in advance about the possibility of checking in an additional suitcase as sports baggage, but Air Transat only classifies golfing and angling equipment as sports baggage. For us, this meant that each of us had to quickly put on a few more pullovers (4, to be exact) and that a few books "officially" remained in Germany.
Upon our arrival, Brett Barden picked us up from the airport and we were very happy to see him again. We did a lot together last year and have known each other very well since then. When we were driving through Vancouver, we immediately noticed that the city has made a lot of progress as far as the planning and realization of the Olympic Games are concerned. Brett took us to our host parents right away, and there was an equally warm welcome as at the airport. Daniel's family had even bought bananas again (his little training snack in between) and everything was perfectly prepared for us to start practicing the next morning.
On our third day here in Vancouver, July 1, the Canadians celebrated Canada Day. That's one of the most important national holidays here in Canada and commemorates the creation of Canada as a state of the British Commonwealth. On this day, many Canadians walk around with the Canadian flag and hats or t-shirts with the maple leaf. Even we were given a Canada hat from one of our training partners in the morning that we put on when we walked around in the afternoon. We were often greeted with a friendly "Happy Canada Day" on the street. When Daniel went home after training, he noticed this bottle collector who cheerfully called out "Happy Canada Day" to everybody while he continued to look for bottles. Comparing this national pride and the celebrations with something like German Unity Day is hardly possible.
On the weekend, we took the time to go to Manning Park with our friend Brett Barden (www.skatetoday.com). Since there's a speed limit of 100 km/h for the most parts of the highway, a distance of 200 km is nothing you'd just cover quickly. Manning Park offers some beautiful natural scenery and has everything that you imagine when you think of the word "Canada." Snowy mountain tops (even in the summer), valleys with small winding lakes and crystal-clear water, grizzly bears, deer, raccoons, and lots of other wild animals. We indulged ourselves in walking around a little lake and in renting a canoe afterwards to cool off a bit at 30°C. Back on dry ground, we discovered ground squirrel earths and were fascinated by these animals that, even though they were free-living, were so tame that they ate peanuts straight out of our hands. We wanted to approach our second weekend in a quieter way then without planning any larger activities, so that we could preserve our energies for the following week, and Daniel would also have some time to make progress with his bachelor thesis.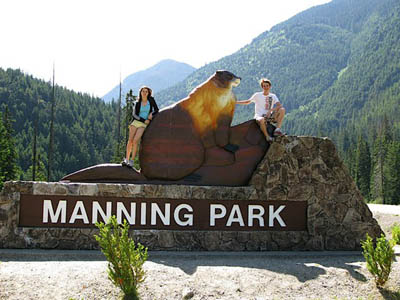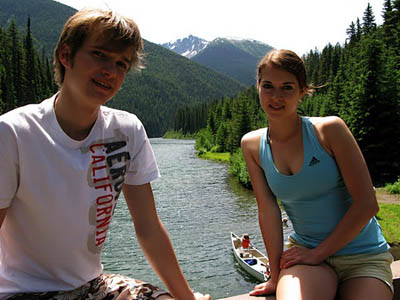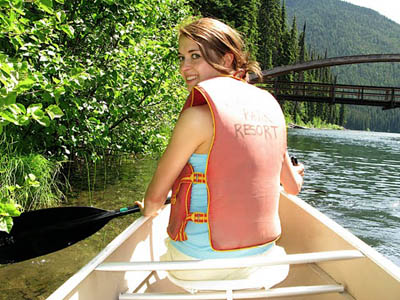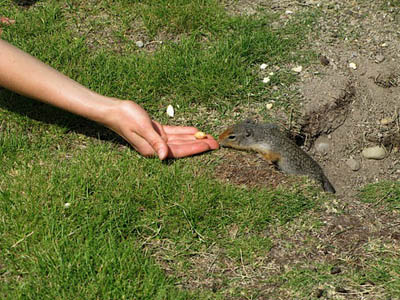 On the third Saturday, we were on the road again with Brett and went to Seattle. Admittedly, the entry into the USA of non-Canadians or non-Americans is a bit more complicated at the border checkpoint. We were flagged down by the customs officer and got a note stuck onto the windshield that sent us to a full check. It wasn't all that bad after all. An officer received us politely and we had to explain in detail why we wanted to enter, where we were heading to, when we'd return, etc. Customs officers are world-renowned for being a bit pedantic and for the fact that they can't take a joke, for understandable reasons, but we have never experienced such a thorough check. Thanks to Schengen. In addition, our car was searched for drugs, weapons, food and other smuggled goods at the same time.
When we were finally allowed to enter, we went on to Seattle. It was a hot, sunny day, we wanted to explore some tourist attractions and started with Pike Place Market. Actually, just another market. Numerous fruit and vegetable stands where you could try food for free, and otherwise lots of other sundries. The whole thing may have had its own, special charm because of the flying fish, though. Since we didn't want to line up in the blazing sun at the "Space Needle" afterwards to have a look at the city from above, we decided on a city tour of the special kind. "Ride the Ducks" - whoever has been to Seattle or another city that offers this attraction knows what this means. The vehicles that can drive by both land and sea are certainly an experience. They look strangely duck-like (which is probably the reason for the name) and the drivers are just admirable. With almost unbearable cheerfulness, a lot of humor and sense of rhythm, you're being shown the special features of the city. Whenever there's a Starbucks sighting (luckily not all 400 stores are on the route), there's a "ka-ching" and all the passengers are encouraged to join in. Somehow Seattle is a major American city like so many others, but "Ride the Ducks" still manages to tease out some specials. Afterwards, we went to a typical American all-you-can-eat restaurant, allegedly one that doesn't only serve pizza and BBQ, but which also offers salads, soup, and other somewhat healthy food.
On our way back, we also stopped at an outlet center for a few minutes (unfortunately only slim pickings) before we went on to tremble again at the border. Because you never know if the officers find some reason after all to refuse your entry, and since our return flights were booked from Vancouver, we'd have had a problem there. By coincidence, Carolina had heard just a week earlier that young people are often denied entry because Vancouver is known as a party and marihuana metropolis. Luckily, everything went well, and this time nobody tried to get money off us, nor did our car get searched. Since we reached home only late in the evening and we wanted to start the week rested on Monday, Sunday was spent rather quietly.
The following week was the beginning of the "Celebrations of Light" in Vancouver. That's a huge, annual fireworks festival in which various nations compete against each other over several weeks. Every Monday and Saturday after dusk, fireworks that are synchronized to music are being fired from a container ship which lies in the bay of Vancouver. Everybody can watch the spectacle from one of the beaches. Since it's all for free and definitely worth seeing, several 100,000 people gather in such nights. Many of them spend the entire afternoon on the beach in order to secure a good spot for the night. On our fourth Saturday in Vancouver, it was the USA's turn to fire their gunpowder, and since there was no training the next day, we went to watch with an Italian exchange student whom we had met here and with our friend Bryn, who had returned from Germany in the meantime. Contrary to all the weather forecasts, there was a sudden downpour. Hoping that it was only a nonrecurring shower, we proceeded from the SkyTrain to the beach. When we arrived there, however, we decided not to wait in the drizzle for the remaining 2 hours and ended up playing cards inside a Starbucks. It was still raining half an hour before the beginning, so we decided, against Daniel's wish, not to wait any longer. After the fireworks, it's impossible to get home quickly. Many streets in downtown get closed in order to handle the masses of people. This is certainly comparable to the masses that were on the move during the 2006 Soccer World Cup.
A heat wave came over the city in the following week. It was a warm and dry summer overall anyway, but now all the heat records since 1960 had been exceeded. During the thunderstorms on Saturday night, some 80 fires broke out in British Columbia due to lightning strokes. It was over 35°C in the shades and 47°C in the sunlight. The ice hockey players complained about the ice being too soft, and when you left the rink at noon, it felt as if you went straight into a sauna. The weather was keeping up for the entire week, so that fans and mobile air conditioners were sold out and water bottles were being distributed on the buses.
Something we really like in Canada, and which works much better than in Germany, is non-smoker protection. In general, considerably fewer Canadians actually smoke, so it's really striking if somebody smokes a cigarette. Smoking is prohibited in all public places, and people actually abide by this. The other day, we even saw a sign in front of a café with the inscription, "It is forbidden to smoke inside the café and within 3m from the door." Cigarettes cost roughly $10 a packet and the bars and clubs are no less crowded than in Germany. The constant back and forth over years about exceptions in some federal states shows how overdue the discussion is in Germany. Thanks to the reform of federalism!!!
Regrettably, we often see the prejudice confirmed that Americans live more wasteful than people in Europe. This certainly doesn't apply to every European or American, but generally speaking there is a huge difference in the consumption awareness of both cultures. Admittedly, we were somewhat shocked when we heard that households don't have to pay for their water consumption here. Every household has some kind of water flat rate and is allowed to waste any amount of water. Of course this invites you to water the flowers (and of course the sidewalks as well) for a couple hours every morning, to cool down the roof with the hose against overheating for a couple hours in the summer, or to sell washing machines that waste three times as much water as the new models in Germany. In the economy you would say that there's no efficient market here.
Best wishes,
Carolina and Daniel