Journal
April 2009
Dortmund
It's almost shocking how time flies and what was going on this past season. During a car ride a few weeks ago, we had a conversation where we reflected on where we stood a year ago today. At the time, we were planning our stay in Vancouver and didn't know what to expect from the following months. Now we don't know either what we'll be facing in the future, but we know now that our worries then were unfounded. Moreover, Carolina was in the middle of her final exams for her diploma, which she passed. Still, the time that starts now is among the most important ones for planning the season because it's now that you lay the foundation for the next season.
When we were planning the remaining season after the European Championships, we considered for a while whether we should fly to Los Angeles directly from China (Winter Universiade). We quickly dismissed the idea, though, because we wouldn't have been allowed that much luggage. As described in the last journal entry, it was very cold in China, and in LA we had temperatures of up to 28° C. If you have to deal with temperature differences of almost 45°, you can hardly get by with the usual 2 times 23 kg baggage if you bear in mind that ice dancers need almost a complete suitcase for costumes, ice skates and training gear. The advantage would have been that we could have acclimatized to the time difference earlier and that everything might have been a bit less stressful.
After our return from China, we immediately returned to our normal daily routine. Internship, studies and training, that is. Daniel wrote another exam and could reduce his backlog to 5 remaining exams. In our training, we now had to decide whether or not to include the rose into our OD. In addition, we started to work with a ballroom dancer, particularly in the Paso Doble. We had noticed in China that the other couples were able to show more presence in the Paso Doble. We practiced simple things, such as taking and leaving the ice, in order to have a stronger presence already in those parts. During the World Championships, this trend caught our eyes again when we observed how many teams have a rehearsed way of taking the ice for their performance. This probably gets edited out for television in many cases, but from our point of view it looks great in the arena as long as it's not overdone.
Oberstdorf
Before Worlds, the German Trophy took place in Dortmund, which is why we went to Oberstdorf in order to get a little more ready with the help of Mr. Sinicyn and Mr. Skotnicky. Since we had planned this very spontaneously, we took the car because a train ride at budget price wasn't available anymore. Our car is a 16-year-old Peugeot that Daniel primarily uses to get to college every day. We try to avoid long distances even though the car is still in a pretty good condition. In the beginning, we made good headway and we were surprised that we even made up some time according to the navigation display. Carolina was asleep when the fuel gauge flashed and Daniel was requested to refuel while we were on the autobahn. Since there was supposed to be a gas station in approx. 8 kilometers, Daniel left the autobahn in order to refuel there. Unfortunately we didn't get that far anymore and had to halt unavoidably in a ditch in the middle of the federal highway. Daniel was so very clever to park slanted in the ditch. Since we didn't know if the car had broken down because of the gas or because of another reason, Caro set out for the gas station immediately by jogging the remaining 3 kilometers, then bought a jerry can and ran back. However, since the car was tilted, it couldn't ingest the gas and we had to call ADAC (General German Automobile Association) to pull us out. That was indeed a bit embarrassing. We've had a jerry can in the car ever since. When we had a break at the next rest stop, also to change because Carolina wanted to drive, we got to meet Andi. Andi was just on his way to a presentation about his backpacking trip through Mongolia and was dressed accordingly in clothes typical of the country. When he asked us if we could give him a ride for those approx. 40 km to Stuttgart, we were both very self-conscious, but since we couldn't come up with an excuse, we eventually accepted. With a queasy feeling, we went on with Andi and talked with him all the time. It was really interesting to talk with him about Mongolia since we had just returned from China and could therefore exchange our impressions. Andi signed our guestbook later and thanked us again for taking him along with us. However, we're not sure if we'd give someone a ride again in future because you really don't know who you're taking along. In Oberstdorf, we stayed with friends to save the costs for accommodation, and since we both focused only on training for the first time in a long while, this was a real relaxation shortly before Worlds for both of us. The return journey ran much more smoothly than the journey there, only a traffic jam got a bit in our way.
After our stay in Oberstdorf, Daniel completed his internship and was happy to have pulled this off in the semester break. The internship was a lot of fun and a very informative experience for him. It was really exciting because he was integrated into the project and he was allowed to assume certain tasks under his own responsibility.
Anaheim (USA)
On March 18, we flew from Frankfurt to Los Angeles on a direct flight. From there we went to the neighboring city Anaheim in which Mr. Kany from the magazine Pirouette had organized a hotel and ice time for the German team. This had been organized by the German Skating Union to prevent the athletes from having problems with the different time zone. The hotel at which we were staying was situated right at a highway, but it was still very nice and close to the rink. The hotel had a large pool in the inner courtyard and a small gym. Since we were the first on location (the others took a later flight from Munich), we went to Downtown Disney on the same evening. This is a kind of city in front of Disneyland and was recommended to us by the hotel staff because it was so close. We spent a few hours there before we walked back to the hotel.
The rink where we trained in Anaheim was very cold and, unfortunately, had the Olympic size. An Olympic-sized rink is 30 x 60 meters, whereas a rink of North American size is 26 x 61 meters. Unfortunately all rinks with North American sizes had already been assigned. These take some time to get used to, and the ice surfaces during the World Championships would all be of North American size.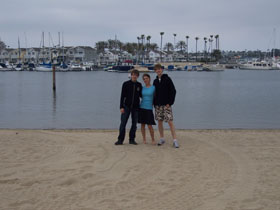 Since we also had a lot of spare time here in Anaheim, we were cruising a lot or spent the afternoons at the pool of the hotel. On Friday afternoon, we went to Newport Beach right after practice to see the beach at least once. Unfortunately the weather wasn't so good and we could only take a little walk on the beach and go barefoot into the water.
Los Angeles
When we moved into the official hotel in LA on Saturday, we immediately met the French who had held a similar training camp in San Diego. In the afternoon, we went to the Walk of Fame. It was very nice there, but we did miss something that we hadn't already known from television or the tourist guide. In principle you could only see things that you had already seen before. We still strolled around here for a few hours, were looking for the Kodak Theatre where the Academy Awards ceremonies take place and found it as well, and we were also able to see the Hollywood Sign from here. Daniel had unfortunately forgotten to recharge the camera, and therefore we could only take a few pictures here.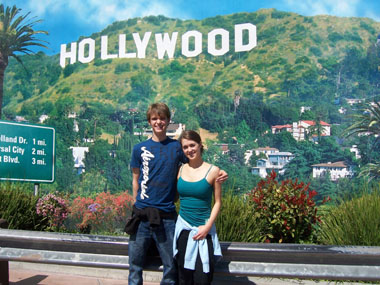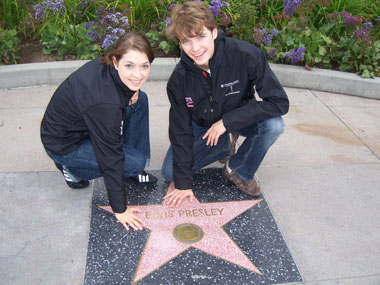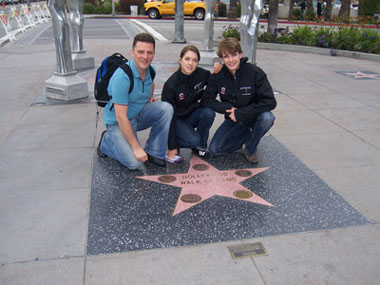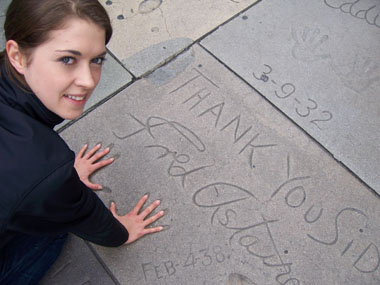 In Los Angeles itself, you could get around without a car very well. The hotel was situated in the middle of downtown, and Staples Center, which was the practice and competition rink, could easily be reached by foot within approx. 15 minutes. If you missed the bus, you could walk to the arena quickly and without any problems. The Grammy Museum was on the way to the rink, but we regrettably didn't manage to visit it all this time. The area around the hotel itself was good, but if you went away for approx. 10 blocks, you'd find yourself in the middle of a skid row. We've never seen this with our own eyes, but we had been warned of staying too far away from the hotel at night. During one of our walks, we stumbled across the Walt Disney Concert Hall which was located only 3 blocks away. One of Daniel's favorite movies was partially filmed at the Walt Disney Concert Hall and it was interesting to know that a real theater movie had been filmed here.

Carolina shared her room with Maylin Hausch and Daniel was together with Peter Liebers. The rooms were large and well-furnished. What was disturbing was that you couldn't open the windows. The sole way of ventilating the room was through the air conditioner. With two pairs of wet skates and costumes which dried in the room, this sometimes resulted in a somewhat nice smell. Air conditioning is a bit overdone anyway. Everything is always air-conditioned and way too cold most of the time. Whenever you went outside, you had to take a jacket or a sweater with you because you would have frozen in the stores otherwise. This was also and primarily the case with Staples Center. When we watched the competitions after our own performances, we always took two light jackets along, so we wouldn't freeze. The reason why Staples Center was so cold might have been that the arena is usually filled with 20,000 people and those were of course not present for the ice dancing competitions. Because of the media stands, the spectator stands had been reduced to approx. 14,000 seats anyway. But even these 14,000 seats were never completely taken. It was the most crowded during the Ladies' Free Skate where the arena might have been 85% full. Overall, the arena was very beautiful and modern. When you looked up from below, it was large, but not nearly as large as when you looked down from above.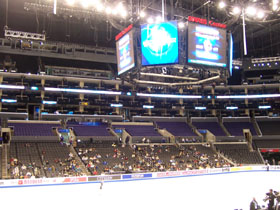 When we were sitting at the highest level for the first time after the Compulsory Dance, we realized for the first time how huge the arena is. The construction of the arena was a bit confusing because there were different levels that you couldn't always reach from the level below. Everything was designed for taking the elevator instead of the staircase. After one competition, we wanted to get from Level 200 to Level 300, but we were denied access to the stairs and had to take the elevator. We were also prohibited from using the visitors' entrances and had to walk through a separate entrance into the arena every time. However, since both entrances had security checks for which every suitcase got opened, you always had to wait a while before getting into the arena.
The food in the hotel was excellent. For us as vegetarians, there was always a range of choices, and apart from bread, which was missing, there was a lot of good stuff and a salad bar every day. Water bottles, however, were only available at the rink.
We were both surprised at our command of English when we noticed how much television we were still able to understand. We had only watched a little television last summer in Canada, but now we were surprised at how much we had retained. Unfortunately the competition wasn't aired on any of our TV sets at the hotel, which is why we could only check the results online when we weren't in the arena ourselves. What we observed with the commercials, though, is that those are set up totally different from German commercials. A big aspect in advertising is the fear of social exclusion and how you can integrate best. Moreover, it is often advertised that food makes you happy and that it's best if you cook ready meals for your family.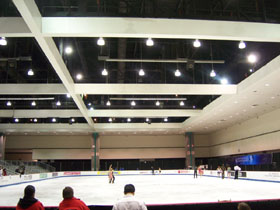 Our practice rink was situated right next to Staples Center in an exhibition hall. There even were some bleachers next to the ice surface and the practice was well-attended for only being practice. There was one occasion when we had practice right after the ladies and we still saw the last group of the ladies on the ice. For this group, the stands were full, and there were some camera teams and photographers at the rink especially for Yu-Na Kim. The entire German team had a great cohesion, and we often went for a meal together after practice. We were all anxious for Aliona and Robin's showings, and it was awesome that they made it. Having world champions in your team at your first Worlds was a great feeling. Peter, too, had all of us excited because of his skates which hadn't arrived with him. When Peter luckily had his old skates sent to him on Sunday, he even managed to land a triple Axel in practice, and we both didn't expect him to miss the finals. It's really too bad that it was so close in the end.
The fan that we showed in the Kiss and Cry after the Paso Doble was a gift from our new ballroom dance coach. On the last day before our departure, he came over for an hour and brought it along. We weren't quite pleased with the Paso Doble itself, though. Daniel slid twice in the break passage because he put his weight too far into the back of his skate. The 20th place was of course not what we had been aiming at, and therefore we wanted to attack in the OD.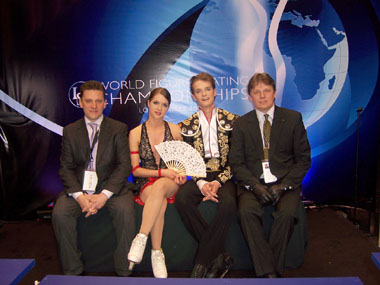 The decision for the rose was certainly risky. We were eager to show this because it had been received well in China, but we were risking a one-point deduction at the same time in case the rose should fall. In the last practice, it of course happened promptly that Daniel lost the rose in the final pose and would therefore have received a deduction. It almost wouldn't have been possible to skate with the rose in the first place because the rose broke off from the stalk during our training in Anaheim. We weren't able to repair this, so we quickly wrote an e-mail to our grandma who then went to Iserlohn one day before her departure in order to pick up a new rose there. Fortunately, the lady who had crafted the rose for us at the time still had another one on hand. While we were warming up, Vitali then had the idea that we could throw the rose into the audience if we skated well. That Daniel tackled this a bit inelegantly was already obvious to us when we went into the Kiss and Cry, and we all had to laugh when we saw this in slow motion. The 16th place in the OD results was awesome for us and we were happy when we were in 18th place overall after the OD. We skated well in the Free Dance and were a bit lucky to even advance to 17th place. When we learned that Germany would get an Olympic spot if nothing changed with the teams ahead of us, we were almost more anxious after the skate than before our performance and trembled with excitement for nothing to change. The French were only allowed to move up two placements maximum overall, and another nation wasn't allowed to improve its placement at all. It was awesome that our placement was sufficient, but we're aware that the spot is not ours and that there will be an uphill struggle for this spot. It's questionable anyway if the NOC will nominate anyone in the end.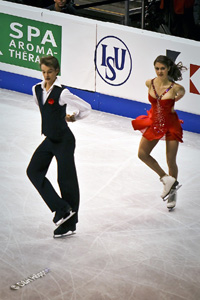 For all three performances, Daniel's hair and makeup was done by the stylist who usually takes care of Nicole Kidman and Celine Dion. He had probably never been made up so heavily, but at least he didn't have any borders this time and the makeup wasn't only applied on his cheeks. Carolina, by all means, was thrilled that she didn't have to worry about Daniel's makeup before each performance. Right after the Free Dance, while being on the way to our parents (they came because we have acquaintances in Los Angeles and there had been some very cheap flights), Daniel met a man in the hall who introduced himself as the composer of our Free Dance music. He had come to the competition with his mother because she loved ice dance, and he rejoiced at our music choice. We don't know if this is really true, but he did name a website on which he indeed sings the song with a band. By this you may see who you can run into in LA....
After our Free Dance, we also met up briefly with our costume designer. Although we have our costumes made in the Czech Republic, we also always look for other ideas which we then discuss with the seamstress at the face. Our designer studies in San Diego, the idea for the OD costume was completely hers. By coincidence, we also met Brian Boitano and Renée Roca who we still knew from Katarina Witt's farewell tour. Daniel was so lucky to be drawn for the doping test and therefore stayed a bit longer at the rink. Thereby, he knew for sure on the very same night that we had earned the Olympic spot.
On the day after our Free Dance competition, we went to the Universal Studios with a couple of friends. The entrance fee wasn't exactly low priced, but luckily we had received $15 discount tickets at the hotel. The highlight of the studios was a round trip through the Universal Studios. Moreover, there were some roller coasters and other attractions. The round trip was really interesting and we went through film locations from Pirates of the Caribbean and Desperate Housewives, for example. We were shown exciting effects from 2 Fast and 2 Furious and the round trip was just great. When we wanted to visit one of the other attractions, we couldn't take our bags with us and had to lock these into lockers. The lockers, however, didn't have any keys, but your fingerprints were taken and used for reopening the locker. This was all very simple and fast and super convenient because you couldn't lose the key.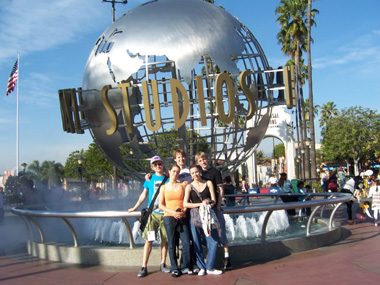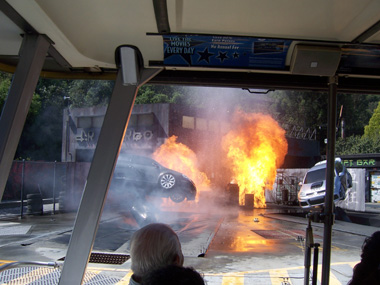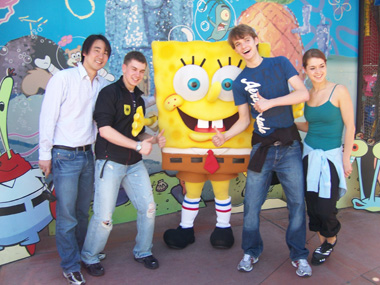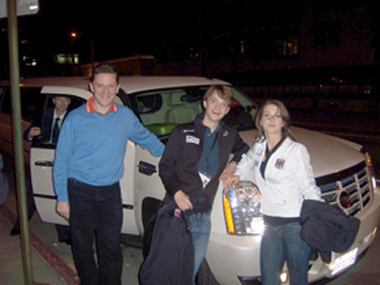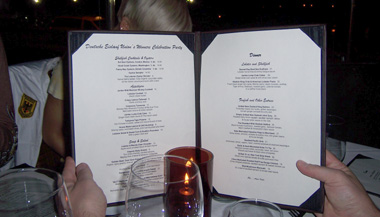 In the evening, we went to the Ladies' Free Skate, and afterwards we all went to the closing dinner of the German team in a stretch limousine. Because of Aliona and Robin's terrific success, this was paid for personally by one of the officials. Everyone was totally surprised when the limousine drove up and we were told that it was for us. Unfortunately it wasn't designed for 22 persons and it therefore became quite cramped during the 30 minutes that we needed to get to the restaurant in Santa Monica. The menu at the restaurant was dedicated to the German team on this day, which is why there was a personal welcome address at the top of the menu. On our way back, we went through Beverly Hills and were able to marvel at some nice houses. According to the travel guide, approx. 5% celebrities live in Beverly Hills and the rest are doctors, lawyers, businessmen, etc.

On the following day, we went to Farmers Market together with some other athletes because there was supposed to be an Abercrombie & Fitch store that had a sale. Almost all the athletes from Europe bought a piece at A&F, and towards the end of the competition it could happen that 3 out of 5 people at your table had clothes on from there. Everyone who has ever been to an A&F store knows what it's like there, and it really is interesting to see. The perfume, music, light and models were a bit too much for us personally, although the others liked it a lot. Towards noon, we then also went to an observatory nearby, which was really very nice. We had a good view over the whole of LA and were also much closer to the Hollywood Sign compared to the last time at the Walk of Fame. This was possibly even the most beautiful place of excursions....

Vitali flew back on that day already, but he had a late arrival since the airplane had to make an emergency landing in Reykjavik because of a medical emergency. Our return flight went according to plan, although there was a complete chaos upon check-in because of the security regulations, but it's probably like this at all American airports.

All in all, the World Championships were a great experience. Worlds in Los Angeles is something very special, even more so if you have world champions on your team..... Now we're only afraid of our credit card bills. We didn't even change money there and always paid everything by credit card, so you can easily lose track. Luckily, we both have a limit....

Dortmund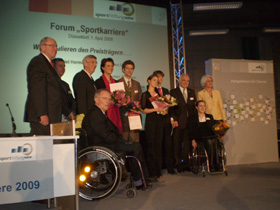 Right on the next day, Daniel went back to college, and towards afternoon, we had an athlete honor by the NRW Sports Foundation. We didn't know, though, that we were supposed to receive an award, but we had been asked to come in any case. For Carolina in particular, this was a bit stressful because she already had to be in Dillingen on the following day for the basic military training of the German Armed Forces. Daniel finally has a bit more time and can take care of his studies intensely. The semester had already started a week earlier, and he missed all the make-up test dates for his exams.
At the athlete honor, the Minister-President of NRW, Mr. Rüttgers, the Federal Minister of the Interior of Germany, Mr. Schäuble, and the Minister of Home Affairs of NRW, Mr. Wolf, were present. Coincidentally, our old school principal and Daniel's current managing director were there as well. Rudi Cerne was hosting, and when we were given the reason for the award at the athlete honor, we were very surprised. We were purposely honored not only for our athletic performances (which is also correct; there are certainly athletes in NRW who have more than a 12th place at Euros and a 17th place at Worlds to offer), but for our dual career planning, for our self-management and the personality that we've developed in the process. For us the greatest award we've ever received because it honors what we struggle for almost every day and for which we've given up a lot. We're both proud that we got our diplomas and go to college now. Also, having friends who are not skaters, but living for the sport all the same. Nevertheless we know that there are some people without whom we wouldn't have been able to cope with such a season, for instance....Thank you.
Best wishes,
Carolina and Daniel